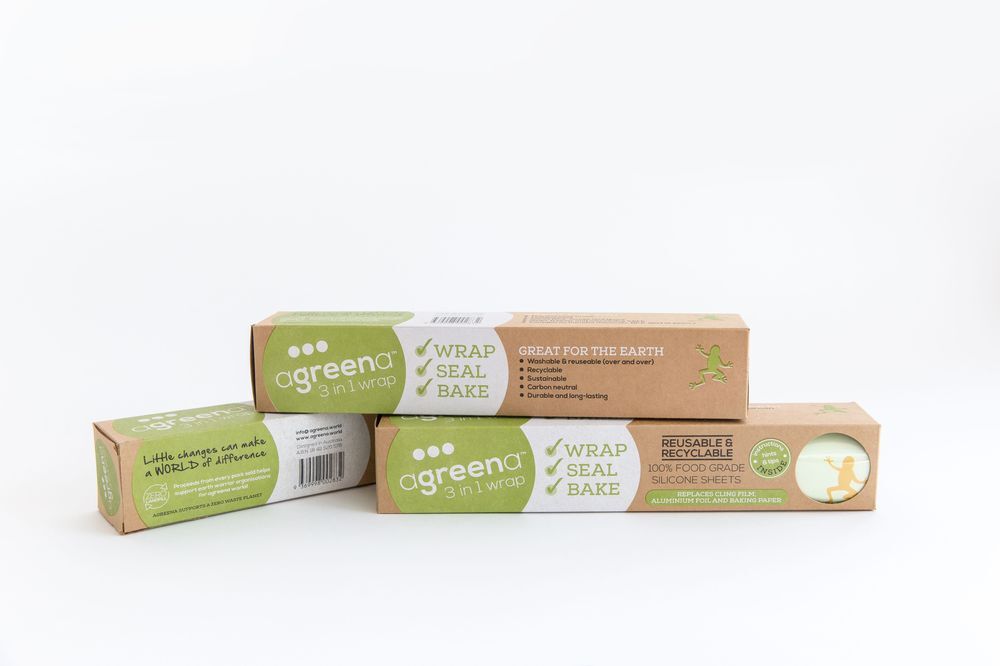 AGreena 3 in 1 Wraps An eco friendly alternative to cling wrap and alfoil
Agreena 3 in 1 Wraps contains four silicone wraps (two small & two large)
Read More
Notify me when back in stock
AGreena 3in1 Wraps are reusable, non-toxic and recyclable wraps that completely eliminate the need for cling wrap, tin foil and baking paper.
Made from the highest quality platinum silicone this is the only food film that wraps, seals and bakes!
The AGreena Wrap Pack contains 4 silicone wraps 2 small (20cm x 20cm) & 2 large (30cm x 30cm) plus instructions for use and care.
Details:
Never buy cling film, aluminium foil or baking paper again!
Keeps food fresher for longer
Declutters your drawers (no more boxes or rolls)
Seal bowls airtight
Hand and machine washable
Can be used over and over again
Australian design
Ethically made
No BPA, phthalates, lead, mercury or any other nasties.
What is the AGreena Wrap made from?
Created from the same rubber as infant and medical products, the Agreena 3-in-1 Wraps are made from 100% pure platinum silicone.
Agreena has been exhaustively tested to the highest possible world standards and found clear! Agreena does not release any chemicals when heated. This is not usual for most silicones, however Agreena is made to such a high quality that not only do they exceed Australian and FDA standards, they also surpass a new recent higher criteria that has just been released in the last 2 years to create stricter controls for food and medical silicone products.
How do I look after the AGreena Wrap?
Wash your Agreena 3-in-1 Wrap in warm soapy water and hang off the edge of a bench or countertop — or just stick them to your splashback or tiled wall to dry. You can then fold and store them in a drawer or in a basket on your counter. You can ensure a long and rewarding relationship with your Agreena Wrap if you just follow a few golden rules:
Keep away from sharp or pointy objects (do NOT use the Agreena Wrap as a cutting mat)
Do not exceed 220°C (428°F) in the oven
Sugar or honey based syrups and acidic substances can cause discolouration and weakness
Wash with very warm, soapy water and dry after each use
Make sure that the Agreena Wrap, your hands, and the item being sealed are completely dry to ensure good adherence.
You can also view helpful instructional videos about this product here
(AG-WRAP)
1 carton containing:
2 large wraps
2 small wraps
| | |
| --- | --- |
| SKU | AG-WRAP |
| Brand | AGreena |