ConcenTrace Trace Mineral Drops is a complex of over 72 trace minerals in ionic mineral form and sourced from the Great Salt Lake in Utah, USA.
ConcenTrace Trace Mineral Drops
Natural mineral concentrate extracted from the waters of Utah's Inland Sea, the Great Salt Lake
Ultra-concentrated; 40 drops equal the mineral content of 1/2 cup sea water with 99% sodium removed
Only 5 mg of sodium per serving
Soluble, Ionic
Certified Vegan, Gluten Free
This product is all natural, highly concentrated, contains no added preservatives, flavours, or sweetness and has a very strong taste.
Suggested Use:
Used to remineralise drinking water (at 5-10 drops per litre)
Added to juices and smoothies
Added to gardening water to nourish plants
Added to pet food
We recommend mixing it with juice or food and dividing the serving throughout the day to mask the concentrated mineral flavor. Begin regimen by taking 10 drops for 3 consecutive days. Each day thereafter, increase serving by 10 drops up to ½ teaspoon (40 drops) once or twice daily.
A complete list of minerals and trace minerals present in ConcenTrace®:
Antimony, Barium, Beryllium, Bismuth, Boron, Bromine, Cadmium, Calcium, Carbonate, Cerium, Cesium, Chloride, Chromium, Cobalt, Copper, Dysprosium, Erbium, Europium, Gadolinium, Gallium, Germanium, Gold, Hafnium, Holmium, Indium, Iodine, Iridium, Iron, Lanthanum, Lead, Lithium, Lutetium, Magnesium, Manganese, Molybdenum, Neodymium, Nickel, Niobium, Osmium, Palladium, Phosphorus, Platinum, Potassium, Praseodymium, Rhenium, Rhodium, Rubidium, Ruthenium, Samarium, Scandium, Selenium, Silicon, Silver, Sodium, Strontium, Sulfate/Sulfur, Tantalum, Tellurium, Terbium ,Thallium, Thorium, Thulium, Tin, Titanium, Tungsten, Vanadium, Ytterbium, Yttrium, Zinc, Zirconium, plus other naturally occurring trace minerals found in seawater.
Click here to download a certificate of analysis (PDF) of the ConcenTrace, which includes a summary analysis of all the minerals verified to be in the product.PLEASE NOTE: The analysis provided is a sample of a batch of ConcenTrace. Because this product is naturally harvested, each batch may vary.
Size: 8oz
Serving size: ½ tsp
Servings per container: 96
Ingredients: Ionic sea minerals from the Great Salt Lake in Utah, USA. Contains no other added ingredients.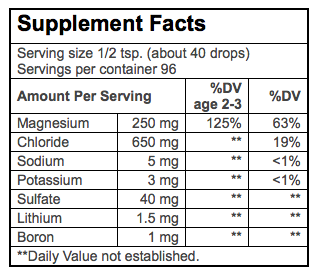 | | |
| --- | --- |
| SKU | TM-CTM-8 |
| Brand | Trace Minerals Research |
What some of our customers have to say