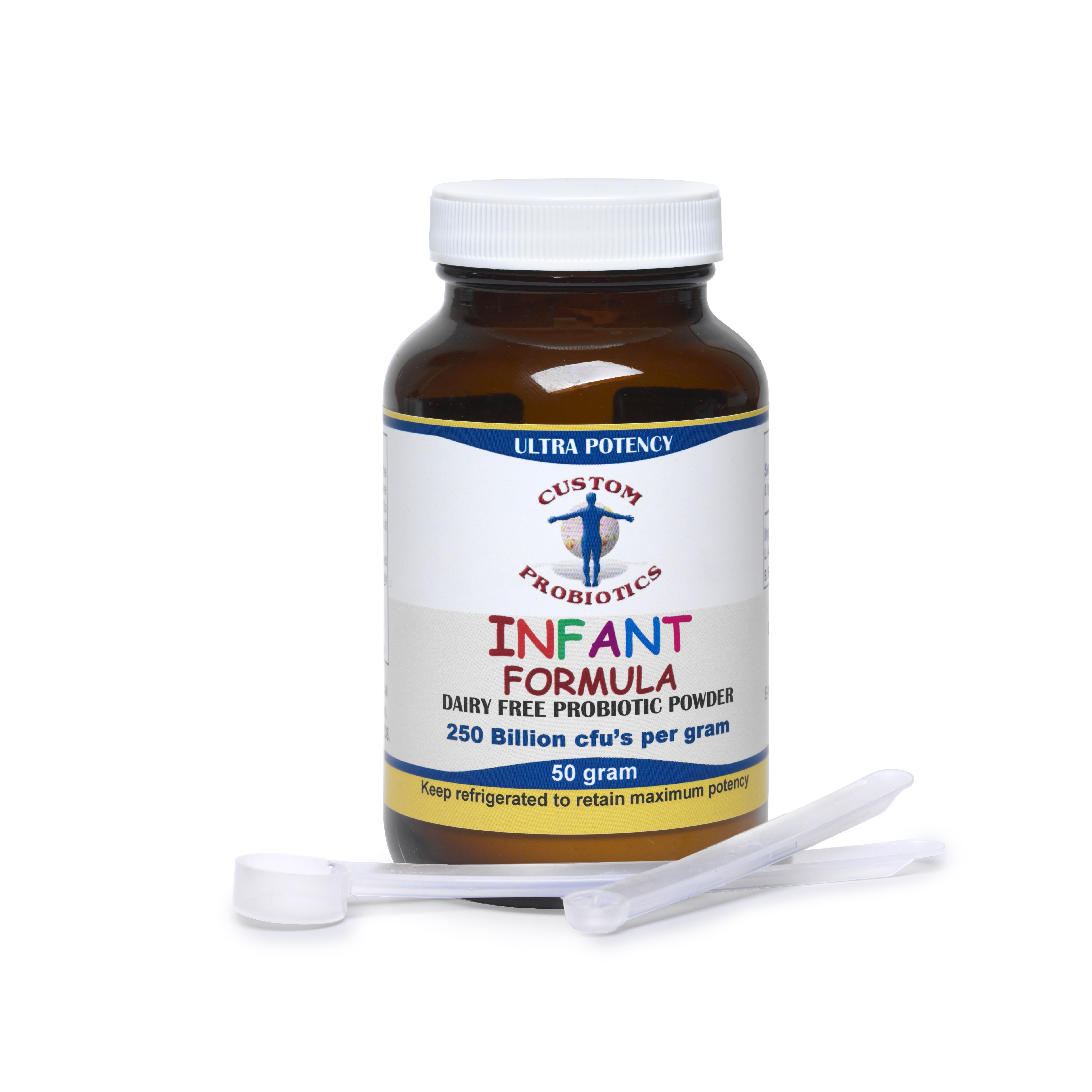 Custom Probiotics Infant Formula
This Custom Probiotics formulation is specifically designed for infants and children aged 1-4 to support their unique intestinal microflora during early childhood.
Read More
Notify me when back in stock
Custom Probiotics Infant Formula is an Acidophilus and Bifidum probiotic, containing the essential strains needed during formation of the gut microflora between ages of 1-4. Each order comes with baby scoops. 1 baby scoop = 0.1g.
Custom Probiotics D-Lactate Formula 4 strain formula contains:
Lactobacillus acidophilus
Lactobacillus rhamnosus
Bifidobacteri bifidum
Bifidobacteri infantis
Custom Probiotics formulations are:
Temperature stable and can be stored or transported without refrigeration for up to 3 weeks. They should be refrigerated on receipt to keep the probiotics at maximum potency for one year from the date of manufacture
Stomach-acid resistant
Free from dairy, sugar, gluten, soy, corn, casein, yeast, artificial colors, flavors, preservatives, FOS or any Genetically Modified or engineered ingredients
NB: This is a refrigerated item and we recommend choosing Express Post in the checkout, especially if you are outside of NSW
How long will a 50 gram or a 100 gram powder last me?
50 grams is equivalent to 60 adult scoops. Each adult scoop measures 0.8 grams (equivalent to 224 billion cfu's). If you take one adult scoop a day 50 grams will last 2 months while 100 grams will last 4 months.
We also include a child scoop measuring 0.1 gram equivalent to 26 billion cfu's. 8 baby scoops are equivalent to 1 adult scoop.
Suggested Use:
Start with one baby scoop (0.1 gram, 25 billion cfu's) of the probiotic powder first thing in the morning on an empty stomach. Dissolve the powder in a glass of dechlorinated water and drink it. Stay at this dosage for about 3-5 days.
If your child is not getting the expected results raise the dosage to one scoop in the morning and one scoop at bedtime. Stay at this dosage for one week. If you are still not happy with the results go up to 2 scoops in the morning and 2 scoops at bedtime. You can always lower the dosage or stop taking probiotics for a few days.
NOTE: Every digestive system is unique like a fingerprint. You need to find the dosage that best suits YOU or your child. It may be one, two, three or even six scoops a day depending on age and the desired result. This gradual increase in dosage is a good way to find the optimum dosage.
Storage Statement from Manufacturer
Custom Probiotic supplements are temperature stable for 2-3 weeks without refrigeration. We have done 2 year temperature stability testing on our probiotics . We overdesign our probiotics so that the loss will not effect the potency indicated on the label. One can travel with our probiotics for 2-3 weeks without refrigeration. It is best however to keep probiotics refrigerated for optimum potency. Below is our 2 year temperature stability study for your information.

(CP-IF)
Size: 50g
Serving size: 0.1g scoop (scoop provided)
Servings per container: 480
Ingredients: L.Acidophilus, L. Rhamnosus, B.Bifidum and B. Infantis
| | |
| --- | --- |
| SKU | CP-IF |
| Brand | Custom Probiotics |
Customers Also Bought