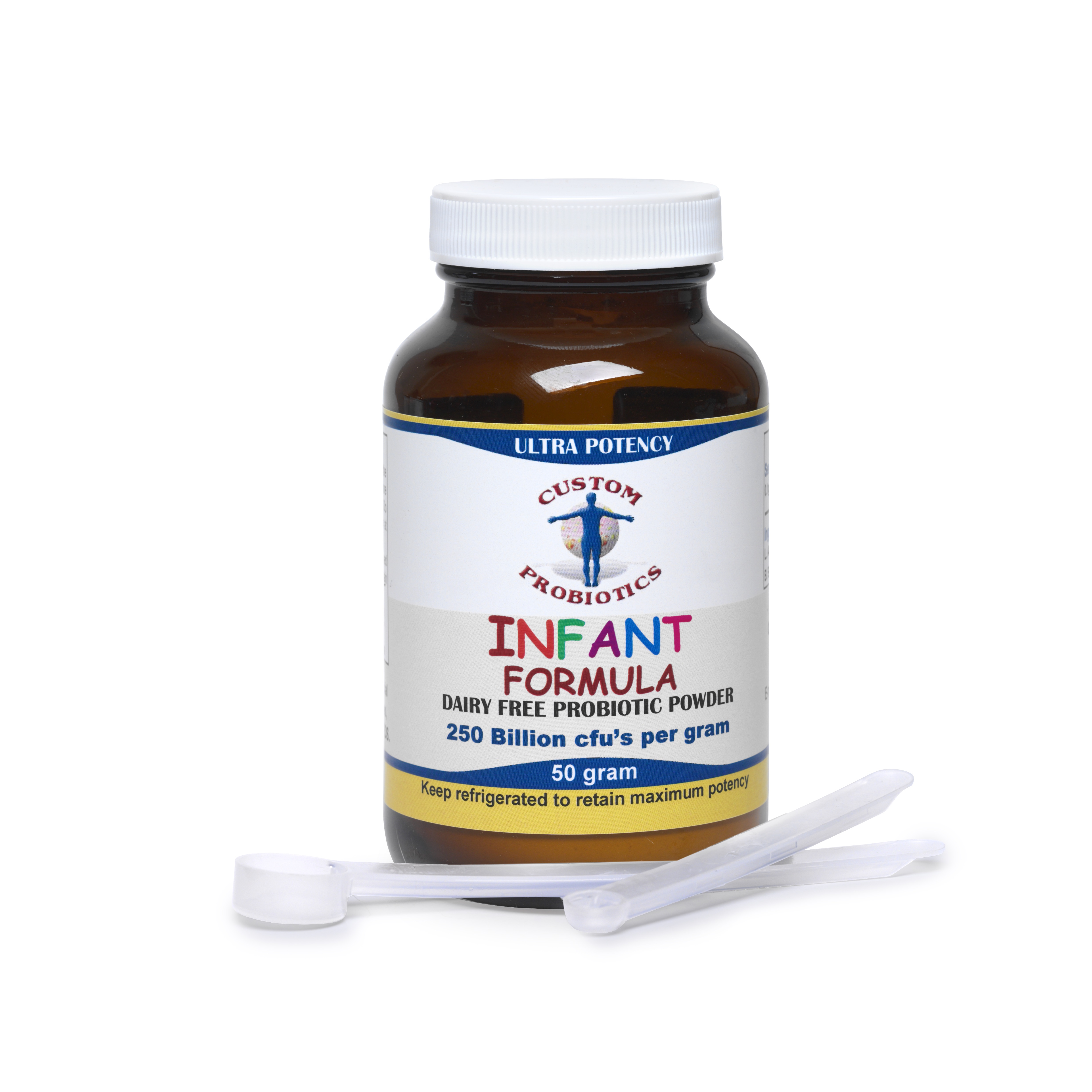 Custom Probiotics Infant Formula
A high-strength, 4-strain probiotic formula, specifically designed for infants and children aged 1-4 to support their unique intestinal microflora.
Read More
Notify me when back in stock
The gut is in a stage of formation during the first three years of life. Custom Probiotics Infant Formula is an Acidophilus and Bifidum probiotic specifically for infants ages 1-4 to improve the intestinal microflora during this crucial stage of life.
Custom Probiotics D-Lactate Formula 4 strain formula contains:
Lactobacillus acidophilus
Lactobacillus rhamnosus
Bifidobacteri bifidum
Bifidobacteri infantis
Custom Probiotics formulations are:
Temperature stable and can be stored or transported without refrigeration for up to 3 weeks. They should be refrigerated on receipt to keep the probiotics at maximum potency for one year from the date of manufacture
Stomach-acid resistant
Free from dairy, artificial colours and flavours, preservatives, gluten and soy.
NB: This is a refrigerated item and we recommend choosing Express Post in the checkout, especially if you are outside of NSW
How long will a 50 gram or a 100 gram powder last me?
50 grams is equivalent to 60 adult scoops. Each adult scoop measures 0.8 grams (equivalent to 224 billion cfu's). If you take one adult scoop a day 50 grams will last 2 months while 100 grams will last 4 months.
We also include a child scoop measuring 0.1 gram equivalent to 26 billion cfu's. 8 baby scoops are equivalent to 1 adult scoop.

(CP-IF)
Size: 50g
Serving size: 0.1g scoop (scoop provided)
Servings per container: 480
Ingredients: L.Acidophilus, L. Rhamnosus, B.Bifidum and B. Infantis
| | |
| --- | --- |
| SKU | CP-IF |
| Brand | Custom Probiotics |
Customers Also Bought