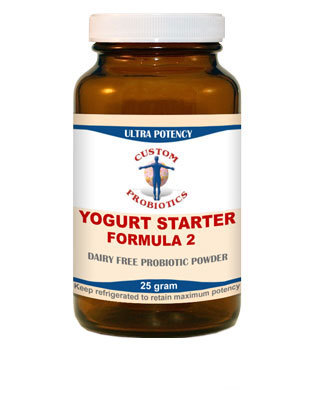 Custom Probiotics Yoghurt Starter Culture #2
An easy way to make probiotic-rich yoghurt at home. 150 billion cfu's per gram of yogurt starter powder.
Read More
Notify me when back in stock
An easy way to make your own healthy yoghurt at home!
Custom Probiotics Yoghurt Starter #2 contains the following beneficial bacteria:
Lactobacillus Bulgaricus
Streptococcus Thermophilus
Lactobacilus Acidophilus
Lactobacilus Lactis
Bifidobacterium Lactis
Instructions:
Scoop size = 0.8 gram. Add half scoop ( 0.4 gm) of yogurt culture, per 1.5 to 3L of milk at 38 degrees C.
Mix thoroughly and ferment for 9 hours or longer, then refrigerate.
Keep the yogurt culture in the refrigerator.
Custom Probiotics formulations are:
Temperature stable and can be stored or transported without refrigeration for up to 3 weeks. They should be refrigerated on receipt to keep the probiotics at maximum potency for one year from the date of manufacture
Stomach-acid resistant
Free from dairy, artificial colours and flavours, preservatives, gluten and soy.
NB: This is a refrigerated item and we recommend choosing Express Post in the checkout, especially if you are outside of NSW
(CP-YOG-2)
Size: 25g
Serving size: 0.8g scoop (scoop provided)
Servings per container: 31
Ingredients: Lactobacillus Bulgaricus, Streptococcus Thermophilus, Lactobacilus Acidophilus, Lactobacilus Lactis, Bifidobacterium Lactis
150 billion cfu's/gram
| | |
| --- | --- |
| SKU | CP-YOG-2 |
| Brand | Custom Probiotics |
Customers Also Bought