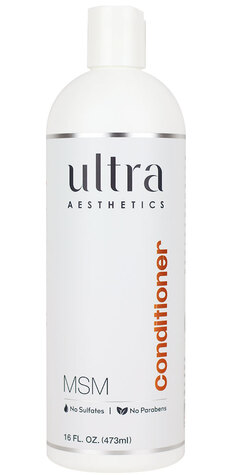 MSM Conditioner 454mls A gentle conditioner to nourish the hair and scalp
For dry or damaged hair, the unique blend of oils, herbal extracts, and nutrients helps restore beautiful luster to your hair. Ultra Aesthetics MSM Conditioner is rich in protein, mucopolysaccharides, and vitamins A, C and E.
Read More
Notify me when back in stock
A gentle conditioner to nourish the hair and scalp. Essential oils contain characteristic plant aromas that leave a gentle fragrance and help hair stay fresh between washings.
Ultra Aesthetics Conditioner's unique formulation is designed to:
Balance oil production
Nourish the hair and scalp with rich proteins and mucopolysaccharides
Soften and detangle
Add gleam, shine and bounce
Ultra Aesthetics Conditioner is a nutrient-dense and protein-rich hair and scalp moisturiser, offering a high concentration of sulphur-rich methylsulfonylmethane (MSM), deeply nourishing oils, fortifying proteins and specific botanicals including:
Rosemary – traditionally applied to the scalp to increase blood circulation and minimise hair loss
Sage – a traditional hair and scalp tonic with a reputation for stimulating hair growth
Coltsfoot – with fantastic antiiflammatory and antibacterial properties for scalp health
Horsetail – especially rich in silica, a mineral building block for strong, healthy hair
(MSM-CO)
473ml
Ingredients: Deionised water, MSM, natural vegetable fatty acid base, milk protein, phospholipids, amino acids (cysteine, cystine & methionine), glycoprotein (glycogen & mucopolysaccarides); extracts of rosemary, sage, coltsfoot, and horsetail; protein extract; tocopheryl acetate, retinyl palmitate, ascorbic acid and panthenol (vitamins E, A, C and B5, respectively, in liposome forms); grapeseed extract, essential oils.
| | |
| --- | --- |
| SKU | MSM-CO |
| Brand | Dr Ron's Ultra Pure |
Customers Also Bought