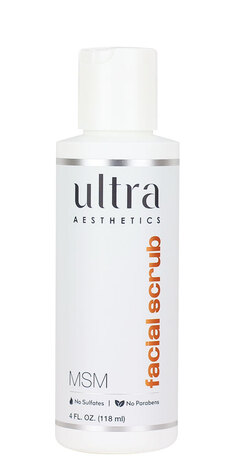 MSM Facial Scrub A gentle exfoliating treatment
Suitable for dry, normal, oily or sensitive skin, this gentle exfoliation treatment with luxurious essential oils ideally formulated for use on the face will bring new life to your complexion. 
Read More
Notify me when back in stock
MSM Facial Scrub is specially formulated for the delicate skin of the face. Containing a high concentration of sulfur-rich methylsulfonylmethane (MSM) MSM Facial Wash is formulated is delightfully therapeutic, thanks to its inclusion of aromatic botanicals including:
Chamomile – a deeply effective and soothing anti-inflammatory
Algae– abundant in skin-loving minerals and phytonutrients
Rosemary – a renowned skin purifier and rejuvenator
Aloe Vera – deeply hydrating, while helping to balance skin pH
Ginkgo biloba – with potent benefits to skin circulation to create radiance
MSM Facial Scrub is also rich in methylsulfonylmethane (MSM), a known source of absorbable sulfur which provides the building blocks required for skin elasticity, flexibility and moisture retention.
Suggested Use:
Perfect to use as a vigorous weekly treatment, MSM Facial Scrub is a gentle formulation suitable for sensitive skins and contains no parabens or alcohols.
(MSM-FS)
118mls
Ingredients: Deionized Water, MSM, Decyl Polyglucose; Extracts of Chamomile, Algae and Rosemary; Jojoba Wax Beads, Glycerin, Sodium PCA, Aloe Vera Gel, Carrageenan Gum, Guar Gum, Acacia Gum, Essential Oils.
| | |
| --- | --- |
| SKU | MSM-FS |
| Brand | Dr Ron's Ultra Pure |
Customers Also Bought