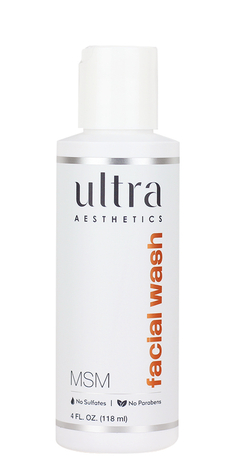 MSM Facial Wash A gentle facial wash, perfect for sensitive skin
MSM Facial Wash is formulated in a nourishing, foaming base of coconut and olive oils. With an 8% Alpha Hydroxy Acid solution, MSM Facial Wash cleanses and exfoliates the skin. Pair it with the MSM range of nourishing serums, lotions, and crèmes.
Read More
Notify me when back in stock
MSM Facial Wash provides benefits to the skin without the use of parabens and alcohols by combining Alpha Hydroxyl Acids with MSM, essential oils and other natural ingredients.
Alpha Hydroxyl Acids to slough off dead skin in the outer layer that can contribute to dry skin, age spots, acne and other problems.

A gentle daily cleanser, it contains an impressive profile of skin-loving botanicals, including:
Calendula – renowned for its remarkable skin healing and antibacterial properties
Chamomile – a deeply effective and soothing anti-inflammatory
Rosebud – offering toning/astringent and wound-healing properties and deeply moisturizing actions
Orange Blossom – helping to reduce redness and irritation while toning the skin
St. John's Wort – helping to resolve inflammatory conditions and tone the skin
Algae and kelp – abundant in skin-loving minerals and phytonutrients
Aloe Vera – deeply hydrating, while helping to balance skin pH
Ginkgo biloba – with potent benefits to skin circulation to create radiance
MSM Facial Wash is also rich in methylsulfonylmethane (MSM), a known source of absorbable sulfur which provides the building blocks required for skin elasticity, flexibility and moisture retention.
Suggested Use:
Perfect to use both morning and night, MSM Facial Wash is a gentle formulation suitable for sensitive skins and contains no parabens or alcohols.
Place small amount and rub gently over moistened skin in a circular motion until a rich lather. Rinse thoroughly with lukewarm water
(MSM-FW)
118mls
Ingredients: Deionized Water, MSM, Coconut Oil, Olive Oil, Alpha Hydroxy Acids, Protein Extract; Extracts of Calendula, Chamomile, Rosebud, Orange Blossom, St. John's Wort, Algae, Aloe Vera, Kelp, and Ginkgo Biloba; Grape Seed Extract, Amla (Indian Gooseberry), Grapefruit Seed Extract, Essential Oils.
| | |
| --- | --- |
| SKU | MSM-FW |
| Brand | Dr Ron's Ultra Pure |
Customers Also Bought