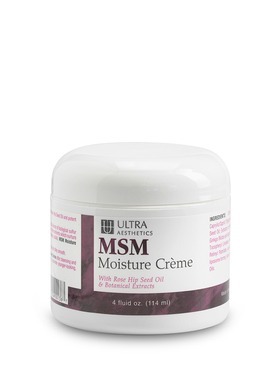 MSM Moisture Creme A daily moisturiser to promote healthy, supple skin
A nutrient-dense daily moisturiser with highly concentrated MSM, rosehip seed oil and therapeutic botanical extracts. The perfect accompaniment to your cleansing and toning regime, MSM Moisture Crème is easily absorbed by the skin.
Read More
Notify me when back in stock
Shea Butter with Rose Hip Seed Oil and MSM forms the base of the intensely nutrient-rich MSM Moisture Crème. Featuring all-natural ingredients including botanical extracts, Aloe Vera Gel, and the liposome (fat-soluble) forms of antioxidant vitamins, MSM Moisture Crème is especially helpful for dry and damaged skin.
MSM Moisture Crème utilises nourishing botanical extracts including:
Calendula – renowned for its remarkable skin healing and antibacterial properties
Chamomile – a deeply effective and soothing antinflammatory
Orange Blossom – helping to reduce redness and irritation
Algae – abundant in skin-loving minerals and phytonutrients
Ginkgo biloba – with potent benefits to skin circulation to create radiance
Aloe Vera – deeply hydrating, while helping to balance skin pH
St. John's Wort – helping to resolve inflammatory conditions and tone the skin
Suggested Use:
For best results as a daily routine, use MSM Moisture Crème after cleansing and toning with MSM Facial Wash and MSM Toner.
(MSM-MC)
118mls
Ingredients: Deionized Water, MSM, Caprylic/Capric Triglyceride, Sorbitol, Shea Butter, Glyceryl Stearate, Rose Hip Seed Oil; Extracts of Hypericum, Calendula, Matricaria, Orange Flower, Kelp, Ginkgo Biloba and Algae; Aloe Vera Gel, Grape Seed Extract, Locust Bean Gum, Tocopheryl Linoleate, Protein Extract, Allantoin, Lecithin; Tocopheryl Acetate, Retinyl Palmitate, and Ascorbic Acid (Vitamins E, A, and C, respectively, in liposome forms); Amla (Indian Gooseberry), Grapefruit Seed Extract, Essential Oils.
Directions: Use MSM Moisture Creme daily after cleansing and toning the face to promote yourger looking, livelier skin.
| | |
| --- | --- |
| SKU | MSM-MC |
| Brand | Dr Ron's Ultra Pure |
Customers Also Bought