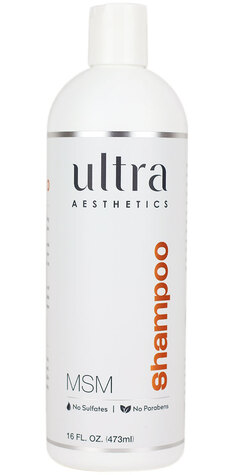 MSM Shampoo 454mls A gentle shampoo to nourish the hair and scalp
With herbs, nutrients and essential oils, MSM Shampoo is an all-natural, effective shampoo that nourishes the hair and scalp. Made with sulphur-rich methylsulfonylmethane (MSM), Ultra Aesthetics MSM Shampoo will bring out your hair's natural qualities.
Read More
Notify me when back in stock
Ultra Aesthetics MSM Shampoo is a nutrient-dense hair and scalp cleanser, using all natural resources to restore health and harmony to your hair.
It offers a high concentration of sulphur-rich methylsulfonylmethane (MSM), deeply moisturising oils and specific botanicals including:
Rosemary – traditionally applied to the scalp to increase blood circulation and minimise hair loss
Sage – a traditional hair and scalp tonic with a reputation for stimulating hair growth
Nettle – a deeply mineral-rich herb that helps to balance the scalp's production of oils
Coltsfoot – with fantastic antiiflammatory and antibacterial properties for scalp health
Horsetail – especially rich in silica, a mineral building block for strong, healthy hair
Fennel – prized for treating and preventing dandruff and other scalp irritations
Aloe Vera – deeply hydrating, Aloe Vera also helps to maintain the pH balanced of the hair and scal
(MSM-SH)
Size: 473mls
Ingredients: Deionised water, decyl polyglucose, MSM (methylsulfonylmethane), coconut oil, olive oil, protein extract; extracts of rosemary, sage, nettles, coltsfoot, horsetail, fennel; aloe vera gel; tocopheryl acetate, retinyl palmitate, ascorbic acid and panthenol (vitamins E, A, C and B5, respectively, in liposome forms); grape seed extract, inositol, niacin, amla (indian gooseberry), grapefruit seed extract, essential oils.
| | |
| --- | --- |
| SKU | MSM-SH |
| Brand | Dr Ron's Ultra Pure |
Customers Also Bought