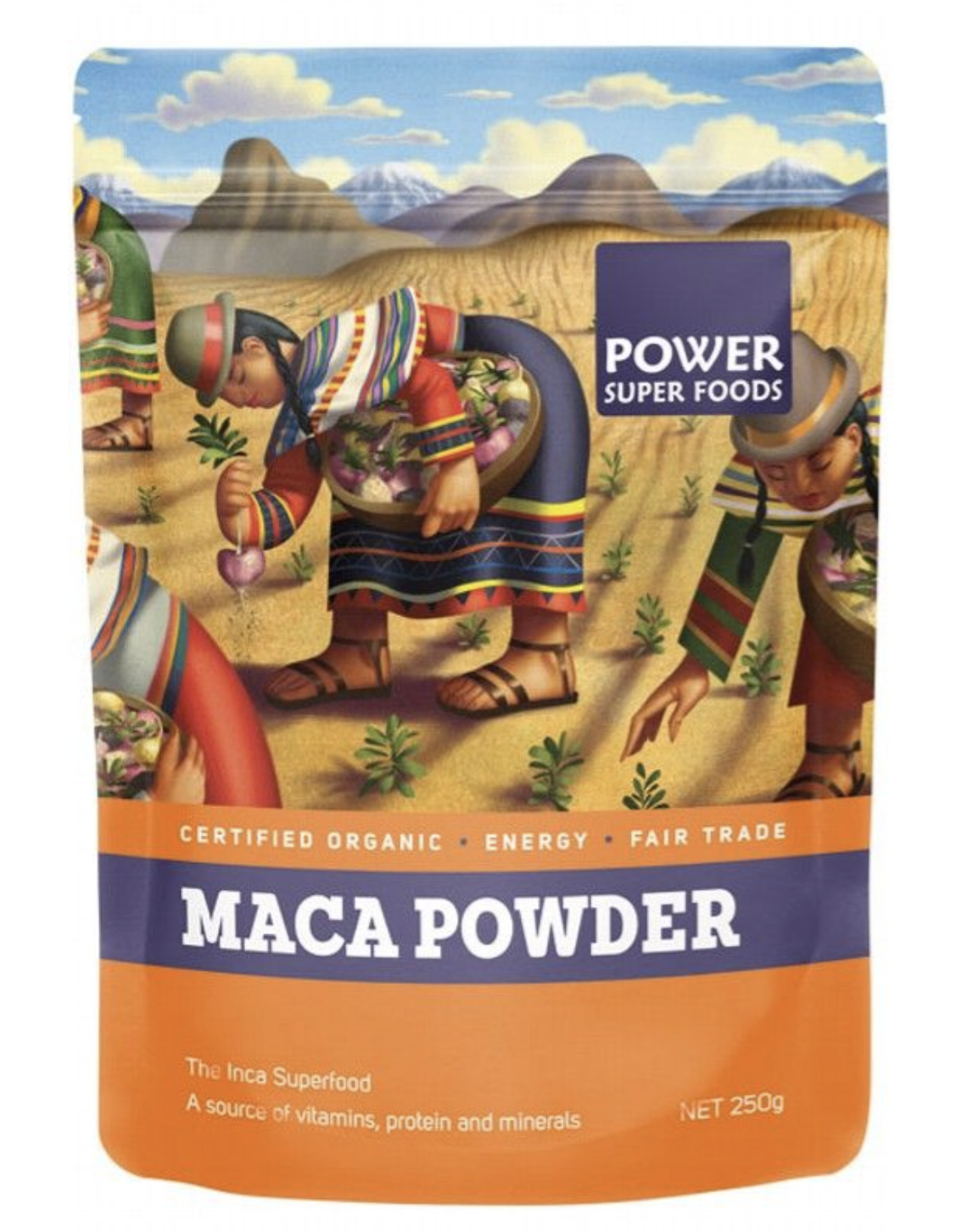 Power Super Foods - Maca Powder 250g
WAS $19.95
NOW $15.96
Sale Ends in
23:59 pm, 31 July 2021
In Stock
Notify me when back in stock
The Maca plant, known scientifically as Lepidium meyenii, is sometimes referred to as Peruvian ginseng.
Maca is a cruciferous vegetable and is therefore related to broccoli, cauliflower, cabbage and kale. It has a long history of culinary and medicinal use in Peru. The main edible part of the plant is the root, which grows underground. It exists in several colors, ranging from white to black.
Maca is often taken for:
Improving symptoms of menopause, including hot flashes and disrupted sleep at night
Increasing libido and fertility
Increasing energy and physical endurance
Improving memory and learning
Maca is grown in the volcanic Peruvian Andes Mountains at 4100 metres – that's over 14,000 feet above sea level! The climate at this altitude is harsh – extreme frost, intense solar radiation, gale force winds, and regular lightning strikes are the norm – and very little vegetation other than Maca, mosses, and cactus grow here.
The Peruvians believe this combination of environmental factors are what give Maca it's unique properties, and science has borne this out in the study of medicinal herbs…..the more climate-specialized and the more duress a plant is under in the growth cycle, the more diverse and numerous its properties.
Power Super Foods Maca Powder is fresh milled to order then climate controlled shipped from Peru. The temperature-controlled processing prevents oxidization and rancidity, especially of heat sensitive vitamins, essential fatty acids, and proteins (amino acids).
Power Super Foods Maca Powder has an impressive 14.6% protein level and has a mild nutty, earthy flavour, indicative of freshness and quality. It tastes particularly good in 'milky' blends like yoghurt and muesli; smoothies and hot chocolates.
The dosage of maca root powder used in studies generally ranges from 1.5–5 grams per day. This equates to 1/2 tsp - 6 tsp per day. You may wish to start with as little as a 1/4 tsp to begin with.
Power Super Foods Maca Powder is:
Certified Organic and Fair Trade
Raw
Paleo friendly
Gluten free
Rich in amino acids, essential fatty acids, vitamins, minerals and trace elements
Serving Suggestion: 1/4 - 1 tsp mixed into food or drink or used in cooking.
Warning: Pregnant or breastfeeding women and those with Thyroid problems should consult with their doctors before taking maca.
(PSF-MC101)
Size: 250g
Serving size: 1/4 tsp (800mg) to 1 tsp (3.2g)
Ingredients: Certified Organic Fair Trade 100% Maca Root Powder (Lepidium meyenii)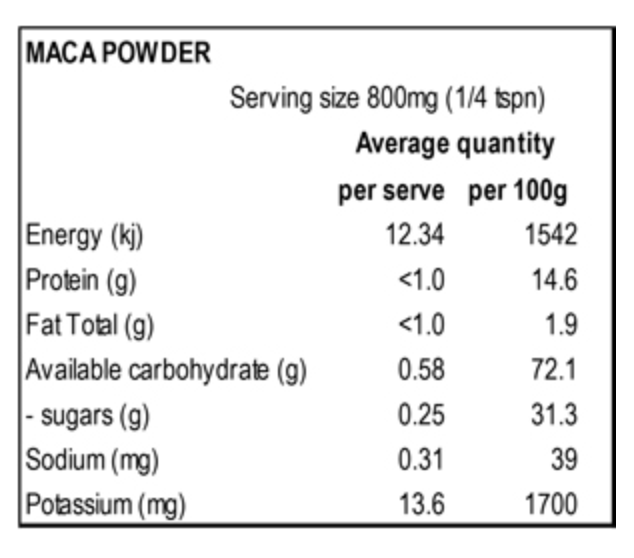 | | |
| --- | --- |
| SKU | PSF-MC101 |
| Brand | Power Super Foods |
Customers Also Bought