A leading probiotic formula containing a unique whole food blend of 12 species of probiotics and Homeostatic Soil Organisms (HSOs) and naturally fermented ingredients.
Read More
Notify me when back in stock
Primal Defense contains a spectrum of Homoeostatic Soil Organisms (HSO's) with a blend of fermented barley and oat grasses.
Primal Defense® Powder:
Whole Food Dietary Supplement
Delivers 12 species of probiotics and Homeostatic Soil Organisms (HSOs)
Utilises Poten-Zyme process
Vegetarian
Gluten Free
The HSOs in Primal Defense are important probiotics you would get in abundance if your food came from soil untouched by pesticides, herbicides and other widely used chemicals. To replenish the valuable probiotics our pasteurised, irradiated and disinfected food no longer provides, Primal Defense includes 12 species of hardy beneficial microorganisms in the form of the HSO Probiotic Blend.
Unlike other probiotics, the HSOs in Primal Defense supplements can thrive in the toughest digestive environments and are undeterred by temperature, stomach acid, chlorine, fluorine, ascorbic acid or bile.
Primal Defense supplements come in two easy to use forms: Powder and UltraZorbe capsules.
Suggested Use:
Primal Defence Powder is best taken on an empty stomach, and blends well into water or juice.
Storage:
Store at room temperature.
Allergens:
Although milk is not included as part of the formulation of Primal Defense, the probiotics were originally grown in a culture medium that contained milk; therefore the finished product may contain trace amounts dairy. In order to produce significant quantities of probiotics, dairy is used to satisfy complex amino acid requirements of growing microorganisms. Since the purpose of the dairy is to feed growing cultures, the vast majority of it is consumed during fermentation, thus not causing a problem for most people with dairy intolerances or allergies.
(GOL-PD)
Size: 81g powder
Serving size: 1 scoop (1/3 tsp)
Servings per container: 90
May increase to 3 scoops per day if desired
Ingredients: Proprietary HSO Probiotic Blend; Barley Grass, Oat Grass, Lactobacillus plantarum, Bifidobacterium bifidum, Bifidobacterium lactis, Lactobacillus rhamnosus, Bifidobacterium breve, Lactobacillus casei, Lactobacillus brevis, Lactobacillus salivarius, Lactobacillus acidophilus, Bacillus subtilise, Lactobacillus paracasei, Bifidobacterium longum
Other ingredients: bacterial proteases, probiotic cultures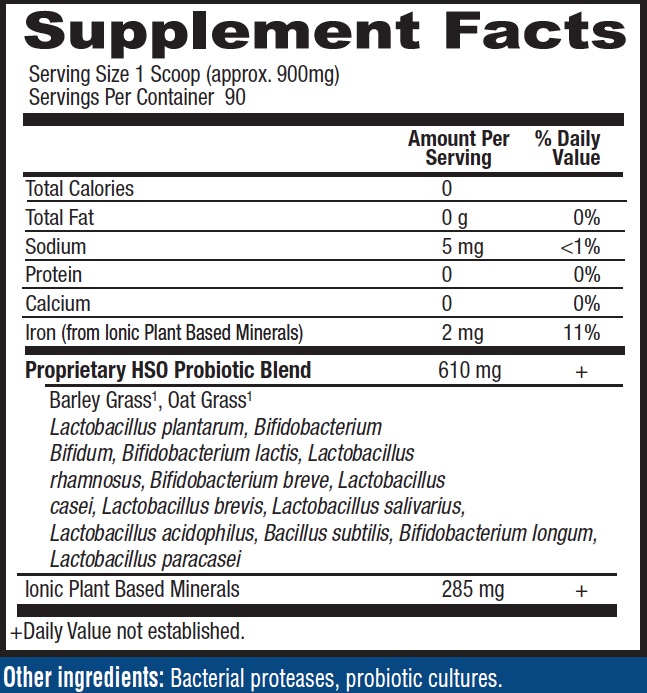 | | |
| --- | --- |
| SKU | GOL-PD |
| Brand | Garden of Life |
Customers Also Bought