Primal Defense Ultra 90 Caps
The ultimate whole food probiotic formula made to deliver 15 billion live cells per daily amount, and 13 beneficial species including Homeostatic® Soil Organisms (B. subtilis) and S. boulardii.
Read More
Notify me when back in stock
Primal Defense® ULTRA delivers all the benefits of Primal Defense but differs in that it has 13 species of beneficial cultures with the addition of Saccharomyces boulardii, providing a 15 billion live cell count in three capsules per day.
Primal Defense® ULTRA Probiotic Formula:
Formulated to deliver 15 Billion CFU¹ in a 3 capsule serving
13 beneficial species, including Homeostatic® Soil Organisms (B. subtilis) and S. boulardii
S. boulardii and B. subtilis can thrive in the toughest digestive environments
Gluten free
Free of artificial colours and preservatives
Delivered in UltraZorbe capsules
Primal Defense® ULTRA is the ultimate broad-spectrum probiotic formula, made to provide 15 billion live cells¹ per daily amount and 13 species of beneficial cultures including soil-based probiotics called Homeostatic® Soil Organisms (HSOs). Probiotics are present in many live foods but destroyed by heat processing, live probiotic cultures populate the intestinal tract where they play a role in digestion and immune system.
Primal Defense comes in two easy to use forms: UltraZorbe capsules and Powder.
Suggested Use:
Primal Defence Ultra capsules are double the strength of the powder form, and best taken on an empty stomach.
Adults begin with 1 capsule per day with a glass of water or juice and gradually increase to 1 capsule 3 times per day.
Storage:
Store at room temperature.
Not intended for children.
(GOL-PD-UL-90)
Size: 90 capsules
Serving size: 1 cap
Servings per container: 90
May increase to 3 caps per day if desired.
Ingredients: Proprietary HSO Probiotic Blend(5 Billion CFU) 410mg; Saccharomyces boulardii, Barley Grass, Oat Grass, Lactobacillus plantarum, Bacillus subtilis, Lactobacillus paracasei, Bifidobacterium longum, Lactobacillus brevis, Bifidobacterium bifidum, Bifidobacterium breve, Bifidobacterium lactis, Lactobacillus acidophilus, Lactobacillus salivarius, Lactobacillus rhamnosus, Lactobacillus casei.
Other ingredients: vegetable capsule (cellulose), magnesium stearate (vegetable source), rice maltodextrin.
Iron: (from Ionic Plant Based Minerals): 1.8mg per cap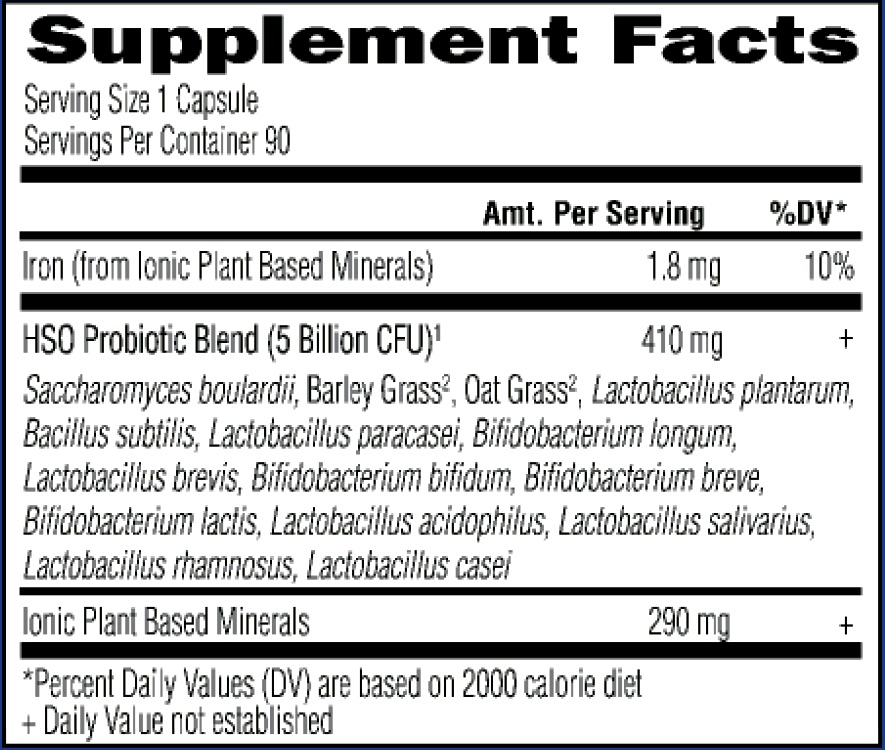 | | |
| --- | --- |
| SKU | GOL-PD-UL-90 |
| Brand | Garden of Life |
Customers Also Bought