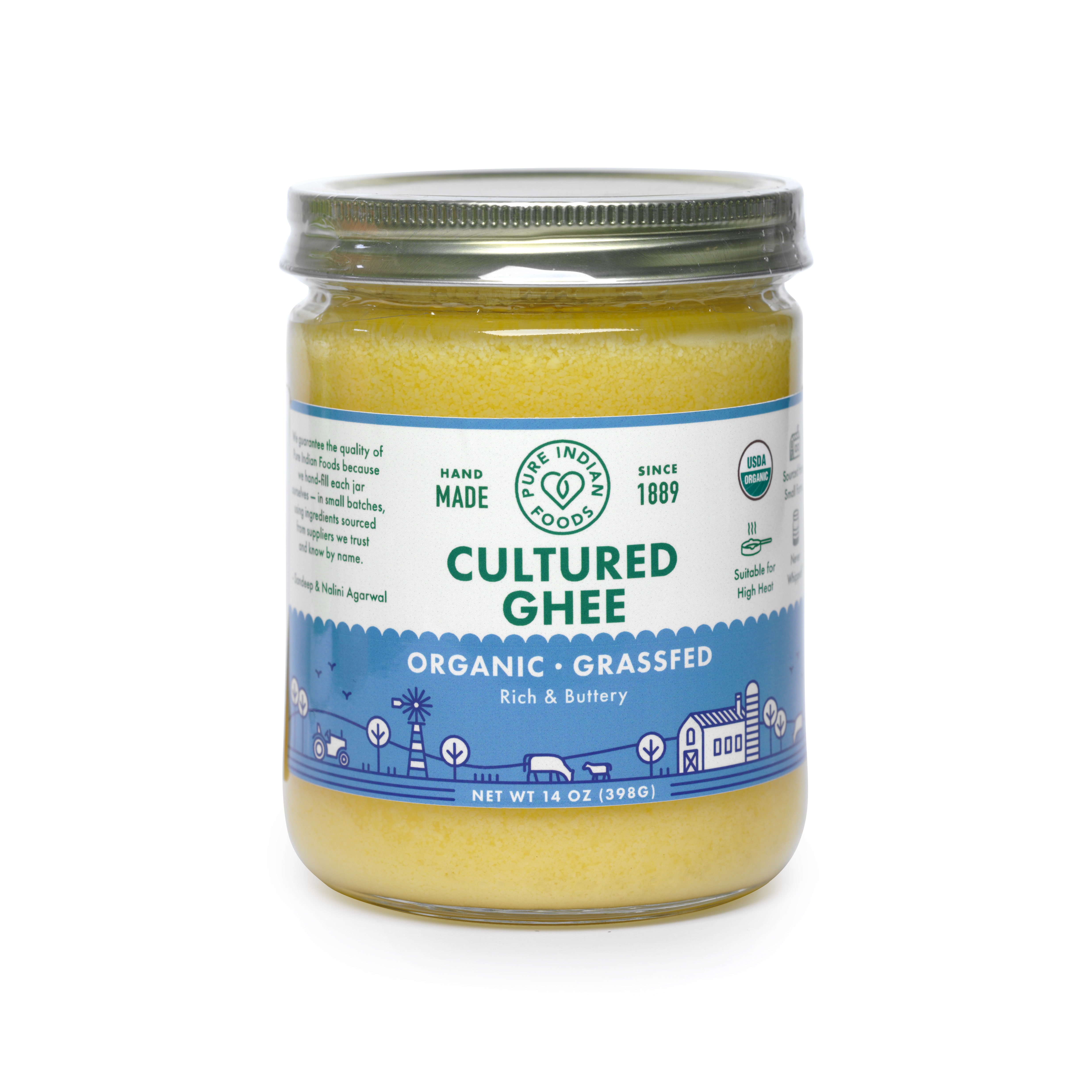 Pure Indian Foods Cultured Ghee 398g
Pure, golden, organic, grass-fed ghee created from cultured cream. Made from a traditional Cultured Ghee recipe that has been used for thousands of years, this versatile product is a great alternative to oil or butter and adds a delicious buttery flavour.
Read More
Notify me when back in stock
Pure Indian Foods Cultured Ghee is made from the milk of pastured cows, fed on fresh green grass in spring thru fall. No GMOs, no added salt, no preservatives, no Trans Fats, no colors or dyes, no MSG, no flavor enhancers. The only ingredients are milk and cultures, with absolutely nothing else added to it.
Pure Indian Foods Grass Fed Organic Cultured Ghee is:
USDA certified organic
100% grass fed
Made from cow's milk produced in the spring and autumn when vitamin levels are especially high
Buttery taste for your favorite foods
More digestible than regular ghee
Non-homogenised
Packed in glass jars
Contains no more than 0.25% lactose and 2.5ppm casein/whey
Culturing cream before churning it gently into butter, then clarifying to ghee is a time-honoured, traditional process known as 'Desi Ghee'. Pure Indian Foods Grass-Fed Organic Cultured Ghee is created this way, resulting in a delightfully aromatic ghee with a subtly tangy flavour characteristic of naturally cultured foods.
Essentially a butter oil, with all casein and lactose naturally removed and with a high smoke point, Pure Indian Foods Grass Fed Organic Cultured Ghee is an excellent choice for frying and sautéing.
Organic, grass-fed ghee is an excellent source of conjugated linoleic acid (CLA); an essential fatty acid with potent antioxidant properties.
Suggested Use:
Sautéing, stir fries, sauces, forked through cooked rice, spread lavishly on toast, and in pancake, scone and biscuit recipes.
Storage:
Can be stored without refrigeration for several months
(PIF-CG)
Size: 396g
Serving Size: 1 tsp
Servings per container: 79
Ingredients: Certified Organic Cultured ghee
| | |
| --- | --- |
| SKU | PIF-CG |
| Brand | Pure Indian Foods |
Customers Also Bought