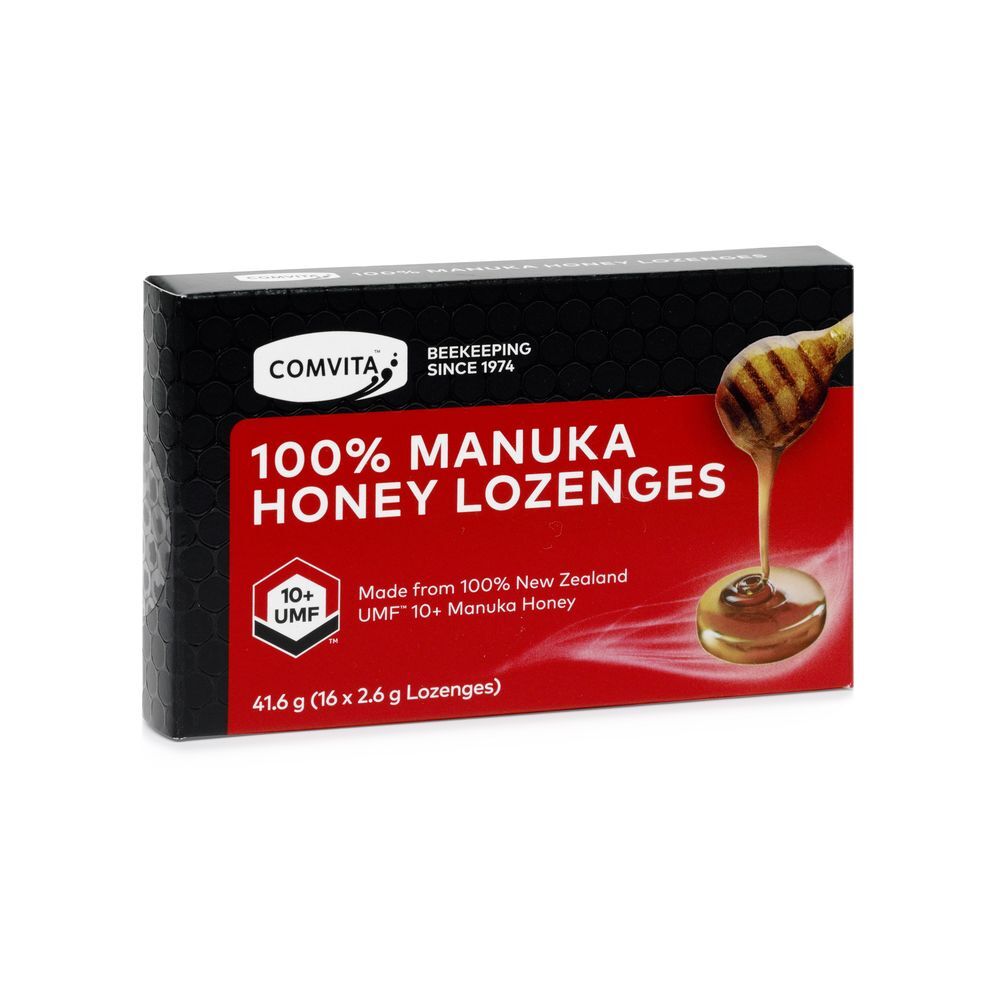 Pure Manuka Honey Lozenges Extra Strength 100% Manuka Honey, sugar-free lozengers
Soothe a sore throat or stuffy nose with these sugar-free, 100% Manuka Honey Lozengers
Read More
Notify me when back in stock
New Zealand Manuka has long been valued for its health-maintaining effects and Manuka Honey is gaining worldwide recognition for its unique properties.
Only some Manuka Honey has the special UMF™ (Unique Manuka Factor) activity. This honey is guaranteed to be at least UMF™ 10+ and has been verified by an independent testing laboratory.
What does UMF™ mean?
The UMF™ (Unique Manuka Factor) trademark was established by the Unique Manuka Factor™ Honey Association (UMFHA). The UMF™ grading system appraises natural markers found in Manuka Honey, and assures purity & quality. This is compliant with the recent interim labelling guidelines published by the Ministry for Primary Industries. Not all Manuka Honeys are UMF™ rated – only those which have been independently tested and verified by UMFHA are given a UMF™ rating.
What is the meaning of UMF™ 5+, UMF™ 10+, UMF™ 15+ and UMF™ 20+?
The UMF™ grading system has two components which are expressed on any UMF™ licenced honey product. Firstly that the label claim is "Manuka" and secondly the number (5.10, 15, 20 or 25) represents three chemical markers that indicate the content of this honey to ensure purity and quality. This includes the key chemical markers DHA, MGO, and Leptosperin.
You can read more about the grading system here
100% Sugar Free
Comvita Pure Manuka Honey Lozenges provide quality 100% pure UMF™ 10+ Manuka Honey in an easy to enjoy form with zero other ingredients!
100% sugar free, these lozengers are perfect for soothing a sore throat or a cold.
Directions: Dissolve one lozenge slowly in the mouth. Repeat as required up to 5 times daily.
Ingredients: 100% Pure UMF™ 10+ Manuka Honey.
**WARNING: This product cannot be shipped to Western Australia (WA)
(COM-LOZ)
Size: 16 lozengers
Serving size: 1 lozenger
Servings per container: 16
Ingredients: 100% Pure UMF™ 10+ Manuka Honey
| | |
| --- | --- |
| SKU | COM-LOZ |
| Brand | ComVita |
Customers Also Bought