ENDURE is a special blend of essential electrolytes your body needs to perform at optimum levels of energy, stamina, and hydration
Proper hydration helps to reduce the incidence of muscle cramping and fatigue so you can endure longer. Plus it contains no sugar or additives to weigh you down. Get the edge you need to perform at your best with ENDURE!
Endure Performance Electrolytes:
Are a perfectly balanced pure electrolyte concentrate that contains important electrolytes such as potassium, sodium, magnesium, chloride, and sulfate.
Are a natural mineral concentrate extracted from the waters of Utah's Inland Sea, the Great Salt Lake
Are certified vegan and gluten free
Contain magnesium, an essential electrolyte that naturally relaxes muscles to prevent cramping
This product is all natural, highly concentrated liquid and contains no added flavour or sweetness.
Suggested Use:
Add 48 drops (½ tsp.) of ENDURE to 1 litre of water and shake well for an added boost of energy, stamina and hydration. This serving size will provide optimum levels for taste and performance when mixed with pure water.
More Energy
Better Hydration
Reduced Cramps
Endure Longer
The Important Roles of Electrolytes
Magnesium: Essential for muscle relaxation, which helps to prevent cramping; helps support cardiovascular function; plays a key role in the production and flow of energy; helps to conduct nerve impulses throughout the body to prevent feelings of fatigue.
Potassium: Essential for muscle contraction to increase muscle endurance; also helps to prevent muscle cramps; is an essential electrolyte to maintain water and acid-base balance in cells; also helps to support cardiovascular function; conducts electrical impulses in the nerves.
Sodium: Like potassium, sodium is essential for muscle contraction and helps to increase muscle endurance; also helps preserve a healthy acid-base balance in the cells; plays an important role in responding to thirst.
Chloride: a forgotten electrolyte in many sports drinks; helps in the efficient exchange of oxygen in the cells; is the most abundant electrolyte outside of the cell; helps in preserving a healthy acid-base balance.
Size: 4oz
Serving size: ½ tsp
Servings per container: 48
Ingredients: Seawater, Ionic Trace Minerals (ITM), purified water, NON-GMO citric acid.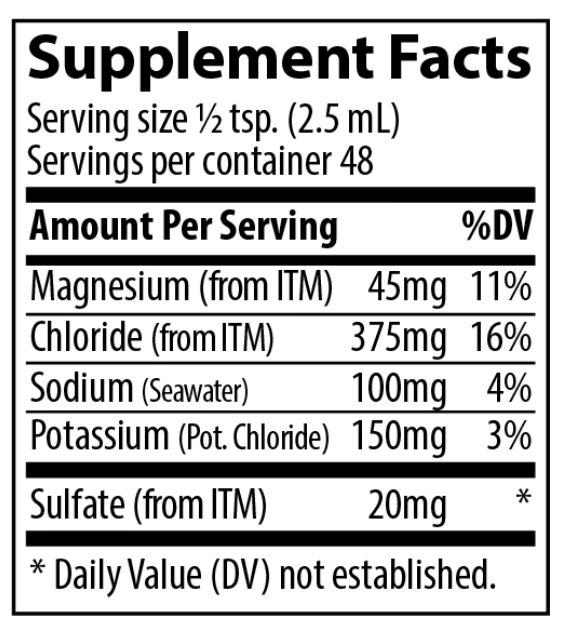 | | |
| --- | --- |
| SKU | TM-END-4OZ |
| Brand | Trace Minerals Research |
What some of our customers have to say