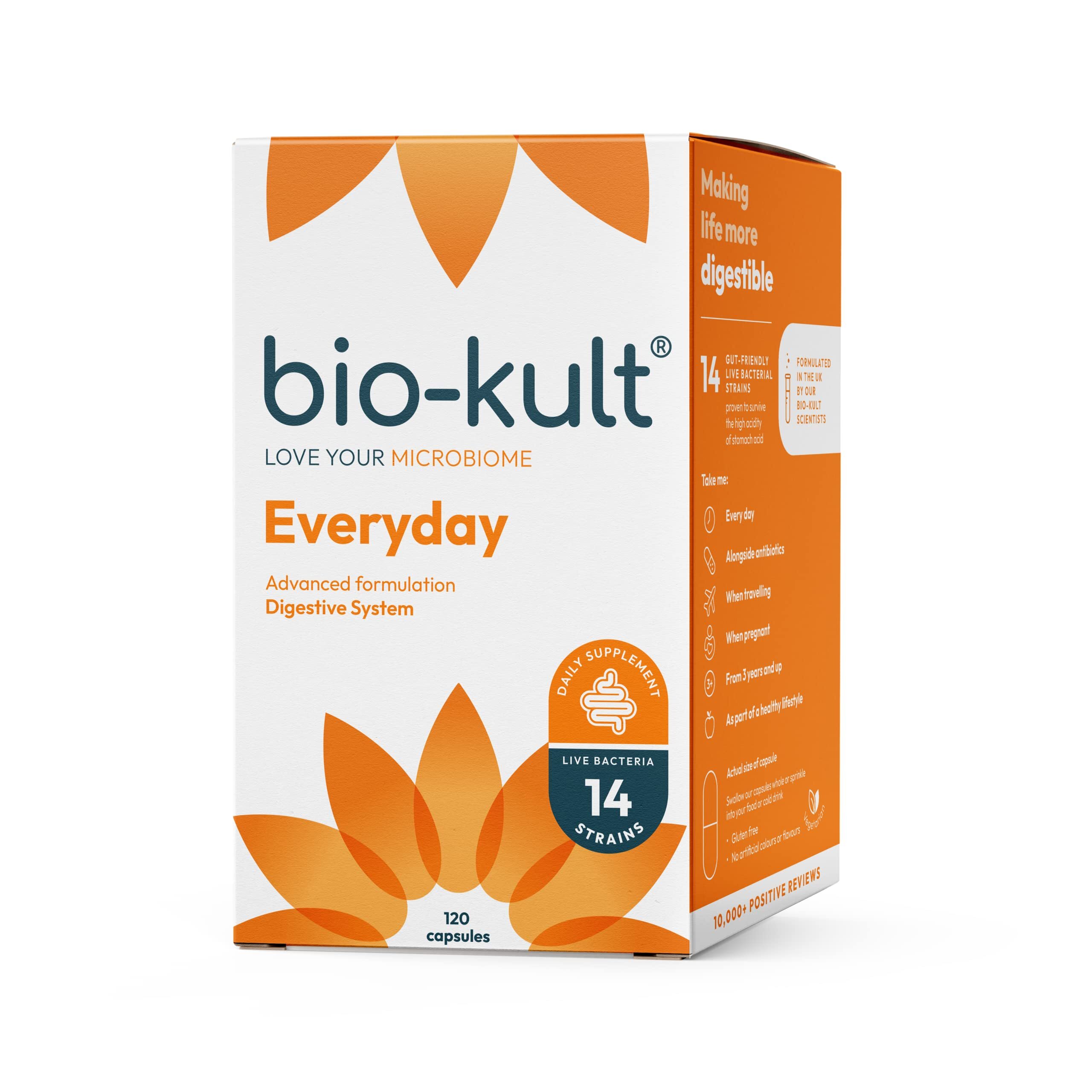 Notify me when back in stock
Back in stock!
Bio-Kult is a 14-strain probiotic for everyday use, formulated by a team of doctors, nutritionists and scientists dedicated to advancing the research and use of probiotic health supplements.
The healthy body naturally hosts trillions of beneficial bacteria that help to support and maintain a strong immune system and a healthy digestive system.
Stress, poor nutrition and illnesses can compromise these essential functions and Bio-Kult was formulated to balance and maintain these natural systems against pathogenic and opportunistic organisms.
The recommended probiotic supplement for those following Gut and Psychology (GAPS) diet and protocols, Bio-Kult is also a supreme formulation for all those interested in maintaining a healthy gut microflora balance.
Bio-Kult is one of the most powerful probiotic supplements available, containing the following 14 strains of beneficial bacteria:
Bacillus subtilis PXN 21
Bifidobacterium bifidum PXN 23
Bifidobacterium breve PXN 25
Bifidobacterium infantis PXN 27
Bifidobacterium longum PXN 30
Lactobacillus acidophilus PXN 35
Lactobacillus delbrueckii ssp. bulgaricus PXN 39
Lactobacillus casei PXN 37
Lactobacillus plantarum PXN 47
Lactobacillus rhamnosus PXN 54
Lactobacillus helveticus PXN 45
Lactobacillus salivarius PXN 57
Lactococcus lactis ssp. lactis PXN 63
Streptococcus thermophilus PXN 66
Bio-Kult is:
Shelf stable with no need to refrigerate
Gluten free
Suitable for vegetarians, children and pregnant women
Presented in a cellulose-based vegetable capsule
(BIO)
Size: 120 caps
Serving Size: 2 - 4 caps
Kids serving Size: 1 - 2 caps
Ingredients:
Probiotic cultures [Bacillus subtilis PXN 21,Bifidobacterium spp. (B. bifidum PXN 23, B. breve PXN 25, B. infantis PXN 27, B. longum PXN 30), Lactobacillus spp. (L. acidophilus PXN 35, L. delbrueckii ssp. bulgaricus PXN 39, L. casei PXN 37, L. plantarum PXN 47, L. rhamnosus PXN 54, L. helveticus PXN 45, L. salivarius PXN 57), Lactococcus lactis ssp. lactis PXN 63, Streptococcus thermophilus PXN 66], Cellulose (bulking agent), Vegetable Capsule (Hydroxypropylmethyl Cellulose).
Provided Strength: Minimum 10 billion probiotic organisms per gram
Minimum 2 Billion Probiotic Organisms per capsule for duration of shelf life.
Store in cool dry place - no need to refrigerate.
Customers Also Bought