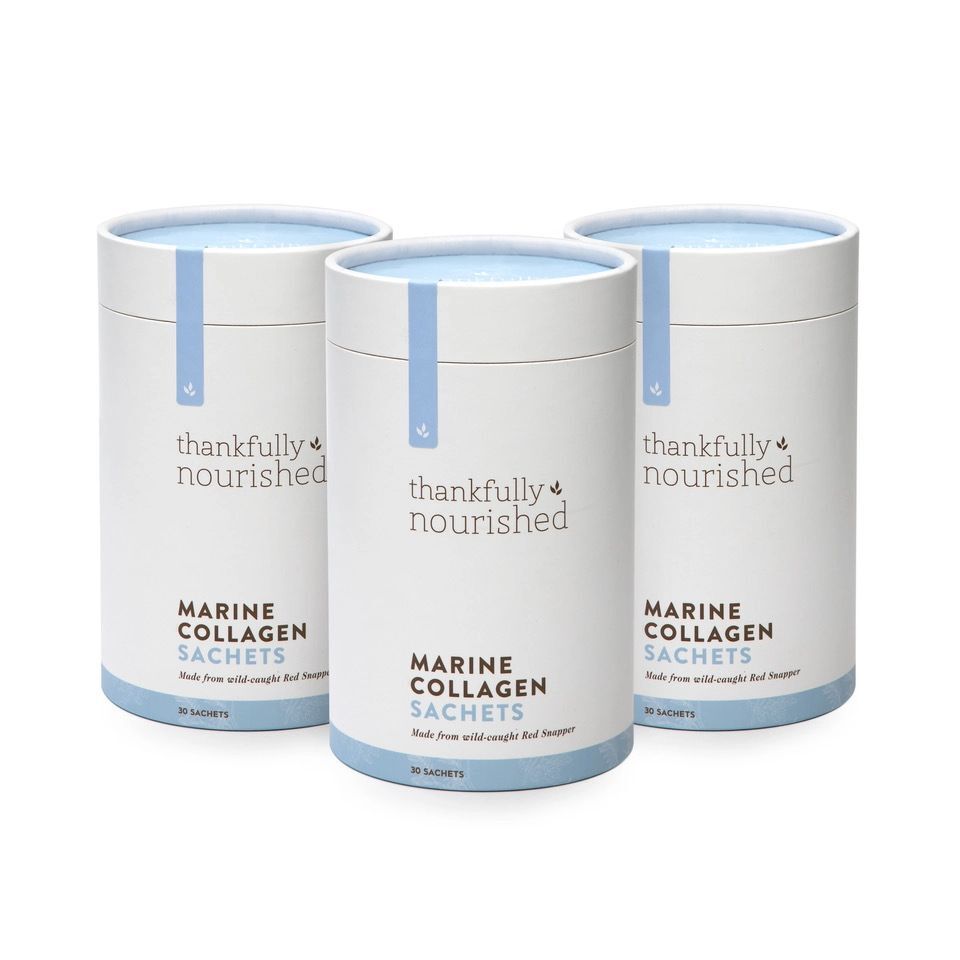 Thankfully Nourished Marine Collagen Sachets - 3 Pack
You will see the most nourishment from Marine Collagen if you take it for a period of at least 3 months. Buy 2 and get one free when you buy this 3 pack!
Read More
Notify me when back in stock
A premium grade marine collagen, perfect for nourishing your skin!
NB: Best Before Printing Error
Please note that our current stock of Marine Collagen sachets has a packaging error in relation to the Best Before date. When the Marine Collagen sachets were manufactured, there was an error made on the part of the packaging company who printed the wrong BB date (2020 instead of 2021). As the sachets had already been filled and supply is limited, they were unable to re-do the collagen run. We have sited the Certificate of Analysis which shows that the correct BB date is 2021 and can confirm this is correct. It was decided to apply the correct BB date (November 2021) on the base of the tub. You can view the certificate here.
Thankfully Nourished Marine Collagen is a premium grade collagen, made 100% from fish scales and extracted using a natural hydrolysis process using enzymes instead of chemicals or heat. The resulting collagen is virtually tasteless, odourless and free from impurities. Thankfully Nourished Marine Collagen is your best choice of nourishment for healthy skin, hair and nails.
Thankfully, our Marine Collagen is:
Highly bioavailable (90% absorption rate)
The perfect molecular weight (3000 - 5000 Daltons) to ensure great absorption and also great taste
Naturally hydrolysed using enzymes (instead of chemicals or heat)
Made from 100% fish scales (not skin)
Sourced exclusively from sustainable, wildcaught fish found in the deep, pristine waters of the South Pacific Ocean
Processed in Japan to the highest purity standards
Stringently tested by independent laboratories to ensure quality and safety
Free from heavy metals, GMO's and radiation
Free from artificial colours, flavours, additives or preservatives
Virtually odourless and tasteless
Gluten, dairy and soy free
Designed to nourish you from the inside out!
Allergens: Contains fish
Suggested Use: 1 sachet mixed into water or tea, up to three times per day.
Storage: Store at room temperature.
(TN-MC-SACH-3)
3 x Marine Collagen Tubs (30 sachets each)
| | |
| --- | --- |
| SKU | TN-MC-SACH-3 |
| Brand | Thankfully Nourished |
Customers Also Bought