One simple (and enjoyable) way to include nutrient dense, whole-food supplements into your lifestyle is to incorporate them into your regular meals.
Here's a great way to do that with a scrumptious and wholesome meal that includes two wonderful whole-foods - Thankfully Nourished Collagen Peptides and Thankfully Nourished Liver Powder
The combination of these meatballs with smoky eggplant is very comforting. Add the freshness of parsley and the crunch of toasted almonds and you have a perfect accompaniment to a brown rice pilaf, bulgur or quinoa. Even a chunk of crusty fresh-baked bread.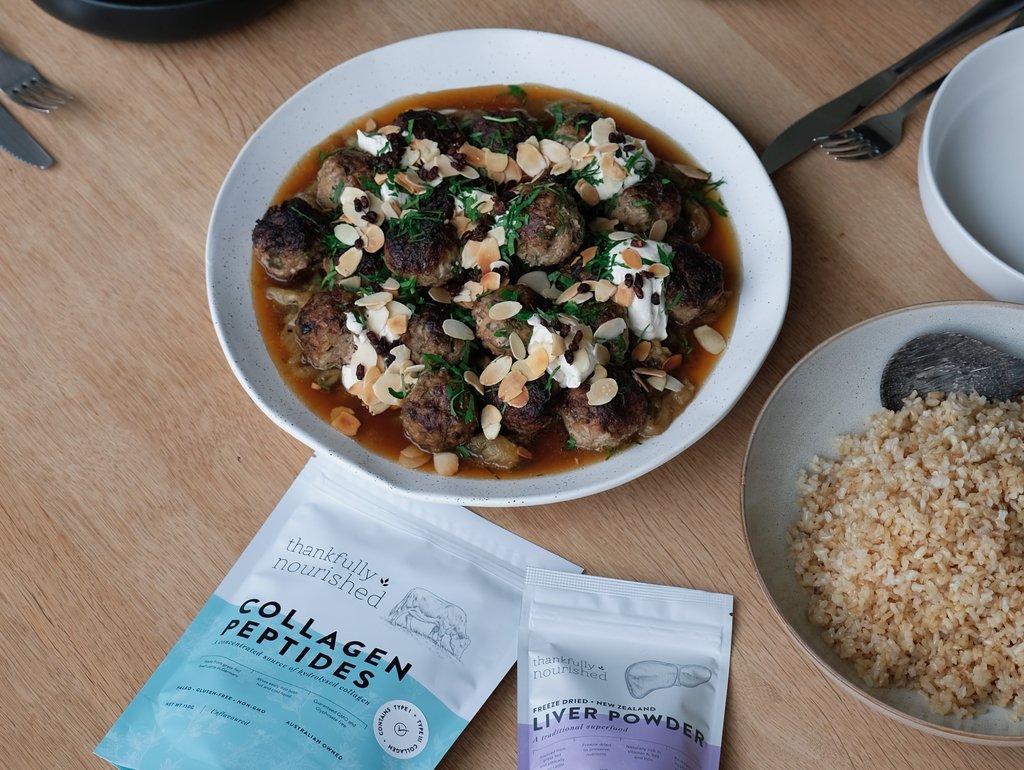 Ingredients
4 medium eggplants

2 garlic cloves, peeled and crushed

Salt and black pepper

350g minced lamb or beef if you prefer

1 small egg, beaten

1 small onion, peeled and finely chopped

1 medium potato, coarsely grated

30g chopped parsley, plus extra to garnish

3 tbsp oil (your choice)

100ml chicken stock

100ml water

20g flaked almonds, toasted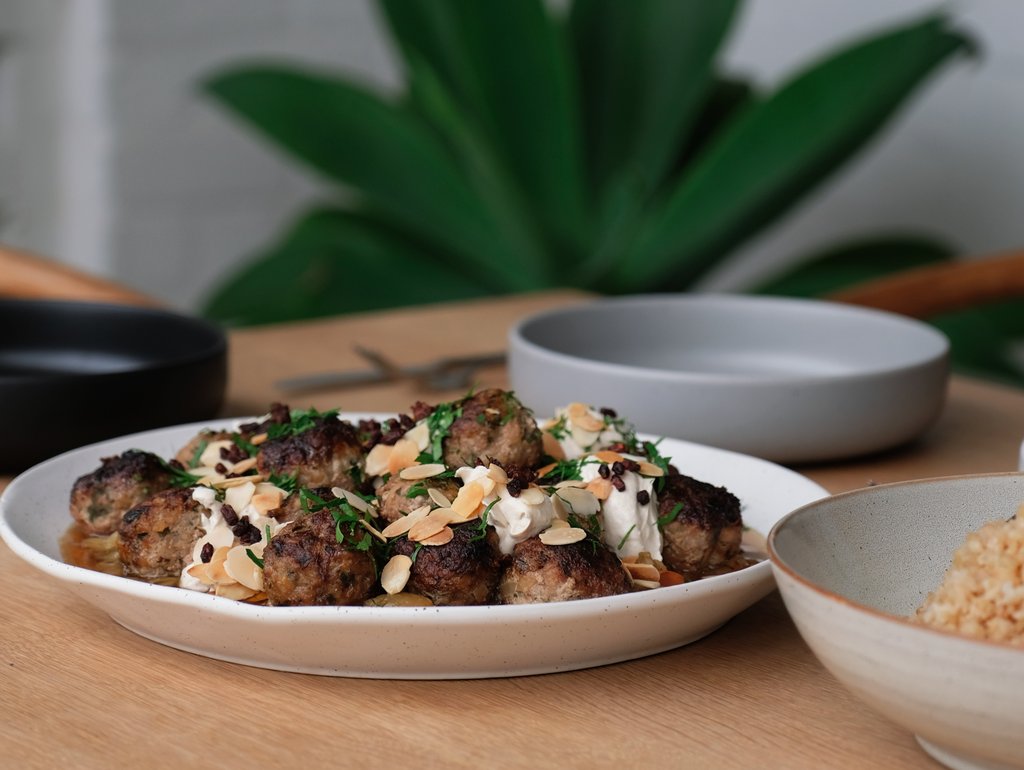 How to make them
Eggplant
Line a gas stove top with foil, then turn on all four rings to moderate.

Lay the whole eggplants over the flames and roast for 10-12 minutes, turning occasionally, until the skin is burnt and the flesh soft.

Remove from the heat and when cool enough to handle, peel and discard the skin.

Pull the soft flesh into thin strips and drain in a colander for 30 minutes.

Stir in the garlic and half a teaspoon each of salt and pepper and set aside.
Meatballs
Put the meat in a bowl with the egg, onion, potato, parsley, the collagen peptides, the liver powder, a teaspoon of salt and three-quarters of a teaspoon of pepper.

Knead the mixture well, then form into ping-pong sized balls.

Heat the oven to 160C.

Heat the oil in a frying pan and brown the meatballs in batches.

Transfer to a plate, reserving the oil in the pan.

Put a 1cm layer of eggplant in a 27cm x 21cm ovenproof dish and top with meatballs. They should fit snugly.

Add the stock and 100ml water, cover with foil and bake for an hour, taking off the foil for the last 15 minutes.

Leave to rest for five minutes, sprinkle over the parsley and stir gently

Serve on a platter or in a bowl dotted with tahini yoghurt (recipe below) and s

prinkle with almonds
NOTE: If you don't have a gas burner you could try the BBQ or under the grill for the same effect with the eggplants.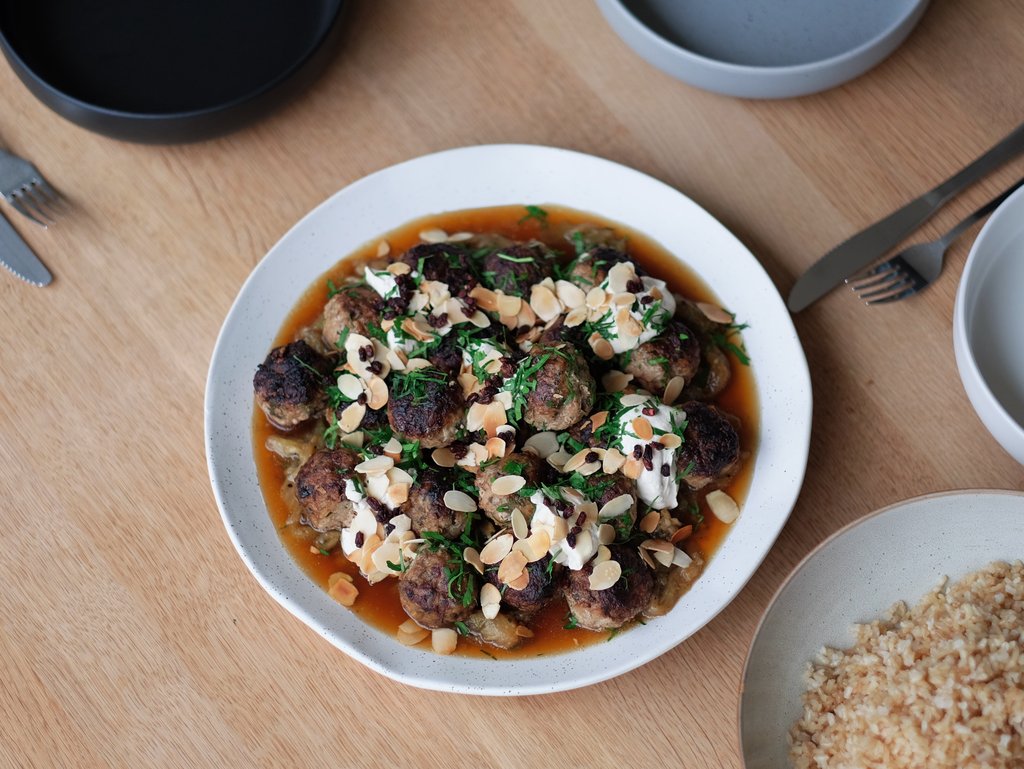 Tahini yoghurt
1/4 cup unsweetened Greek Yoghurt (or your choice of alternative yoghurts)

3 tbsp tahini, preferably hulled

1 tbsp apple cider vinegar or lemon juice

salt and pepper to taste

Combine the yoghurt, tahini and cider vinegar in a small bowl or a mug. Whisk together with a fork.

Season with salt and pepper to taste
Enjoy!
Katrina