This recipe is part of our Thankfully Nourished Christmas Banquet.
There's only one way to finish a nourishing banquet! With a delicious, festive dessert! This is such a wonderful dessert and it can be made the day before and stored in the fridge. The red of the fruit and the green of the pistachio crumb are so reminiscent of the festive season. A cooling yet slightly indulgent finish to a thankfully nourished Christmas lunch.
Ingredients for the strawberry jelly
Makes about 6-8 depending on the size of the glass
140g strawberry (crushed to release juices)

7g lemon juice

35g water
To make strawberry jelly (preferably the day before)
Combine strawberries, Monk Fruit concentrate and lemon and bring to the boil in a saucepan. Allow to cool and puree with a stick mixer.

Mix gelatin into the 35g of warm water until dissolved. Then stir through the puree and pour into a dish, cover and refrigerate to set.

Cut into cubes when you're ready to use it.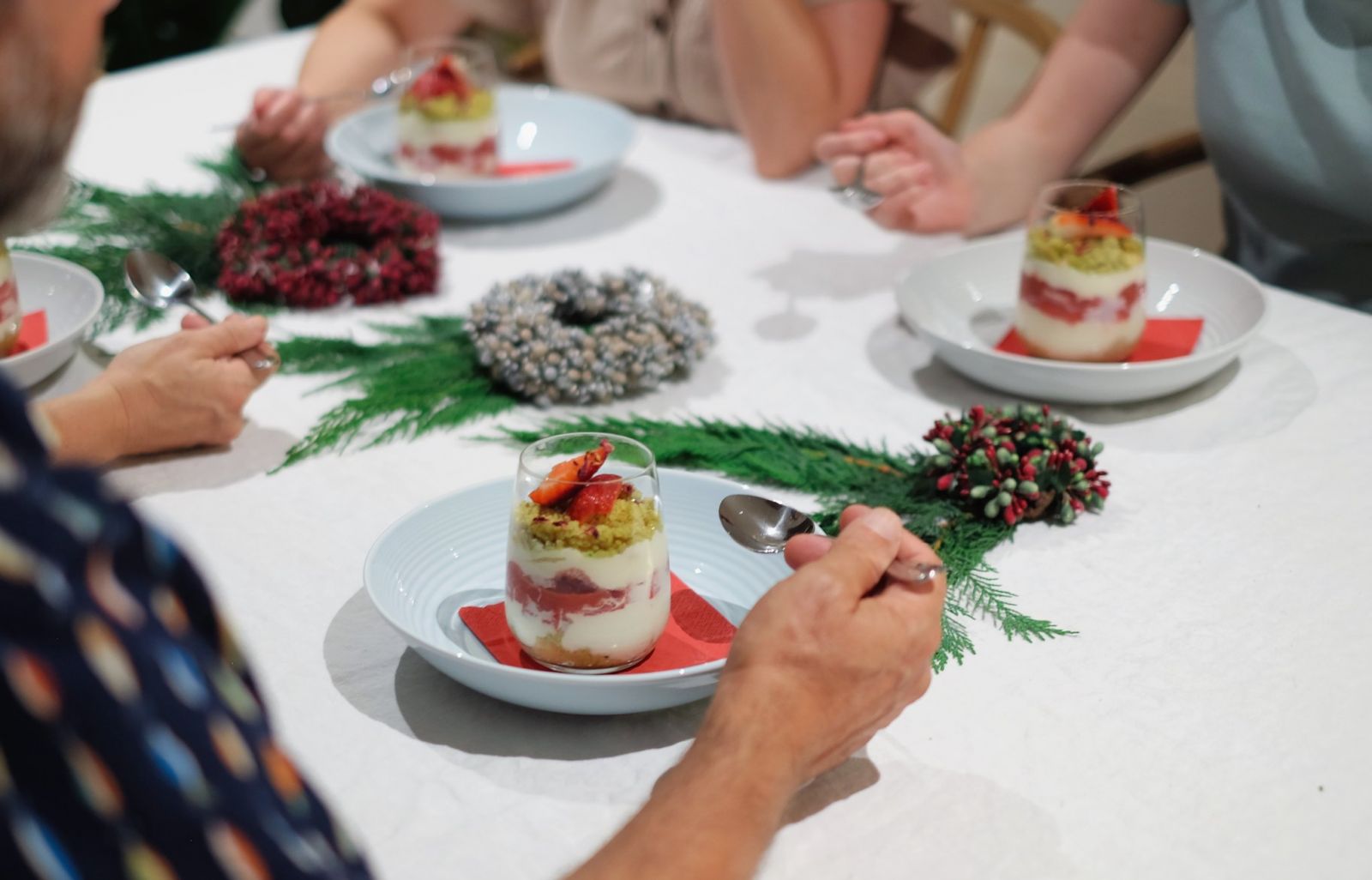 Ingredients for the pistachio crumb
To make the pistachio crumb (can be the day before)
Preheat oven to 180C

Blend pistachios, Thankfully Nourished Monk Fruit concentrate and flour in a food processor or blender to form a crumb.

Rub in the butter with your fingers and spread on a lined baking sheet and pop into the oven for 5-7 minute until toasty and fragrant.

Don't allow it to brown but make sure it becomes nice and crisp.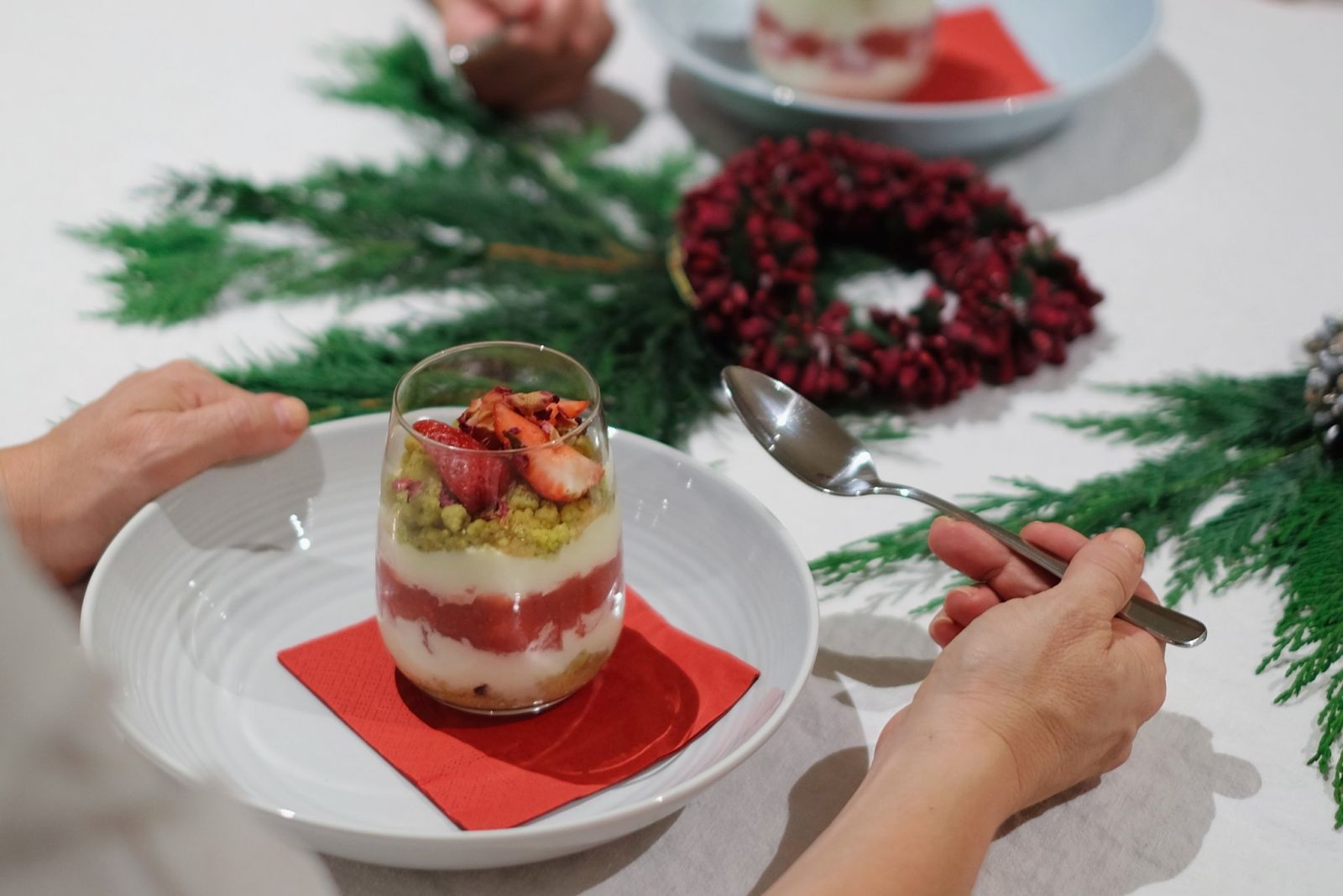 Ingredients for the rose cream
How to make rose cream (on the day of making)
In a small bowl put in the water, rose water and gelatin and stir until totally dissolved.

In the bowl of a stand mixer fitted with the whisk attachment, or in a large mixing bowl using an electric mixer, combine the cream and the Monk Fruit Concentrate.

Whip the mixture until it starts to thicken and soft peaks form, then turn the mixer to low speed. Slowly pour in the gelatin mixture until well combined. Increase the mixer to medium speed and continue mixing until stiff peaks form. Set aside in the fridge until ready to use.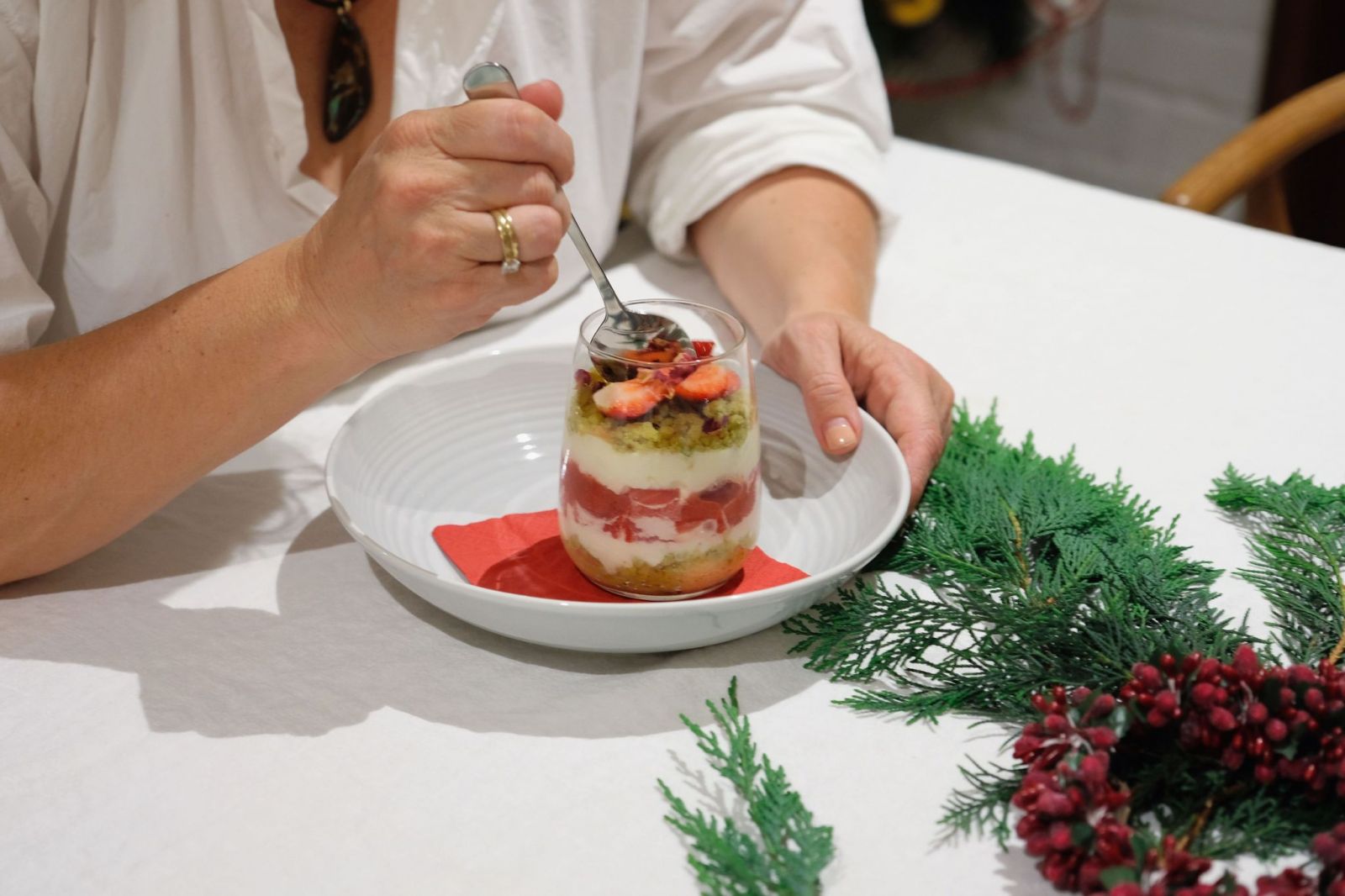 To macerate watermelon
Arrange 250g watermelon slices in a single layer on a wire rack.

Sprinkle with 60ml rosewater, then scatter with 30 drops of Thankfully nourished Monk Fruit Concentrate. Stand to macerate (30 minutes), then pat dry with absorbent paper. Cut into cubes.
To assemble Christmas trifle
Fresh quartered strawberries

Dried rose petals

A few savoiardi or pavesini biscuits (or some sugar free sponge from the supermarket is fine if you prefer)

Start with a few pieces of biscuit (soaked in milk for no more than a second or two) or sponge at the bottom, then sprinkle some pistachio crumb, then rose cream, watermelon, strawberry jelly, more biscuits/sponge, more cream.

Garnish with some pistachio crumb, fresh quartered strawberries and dried rose petals.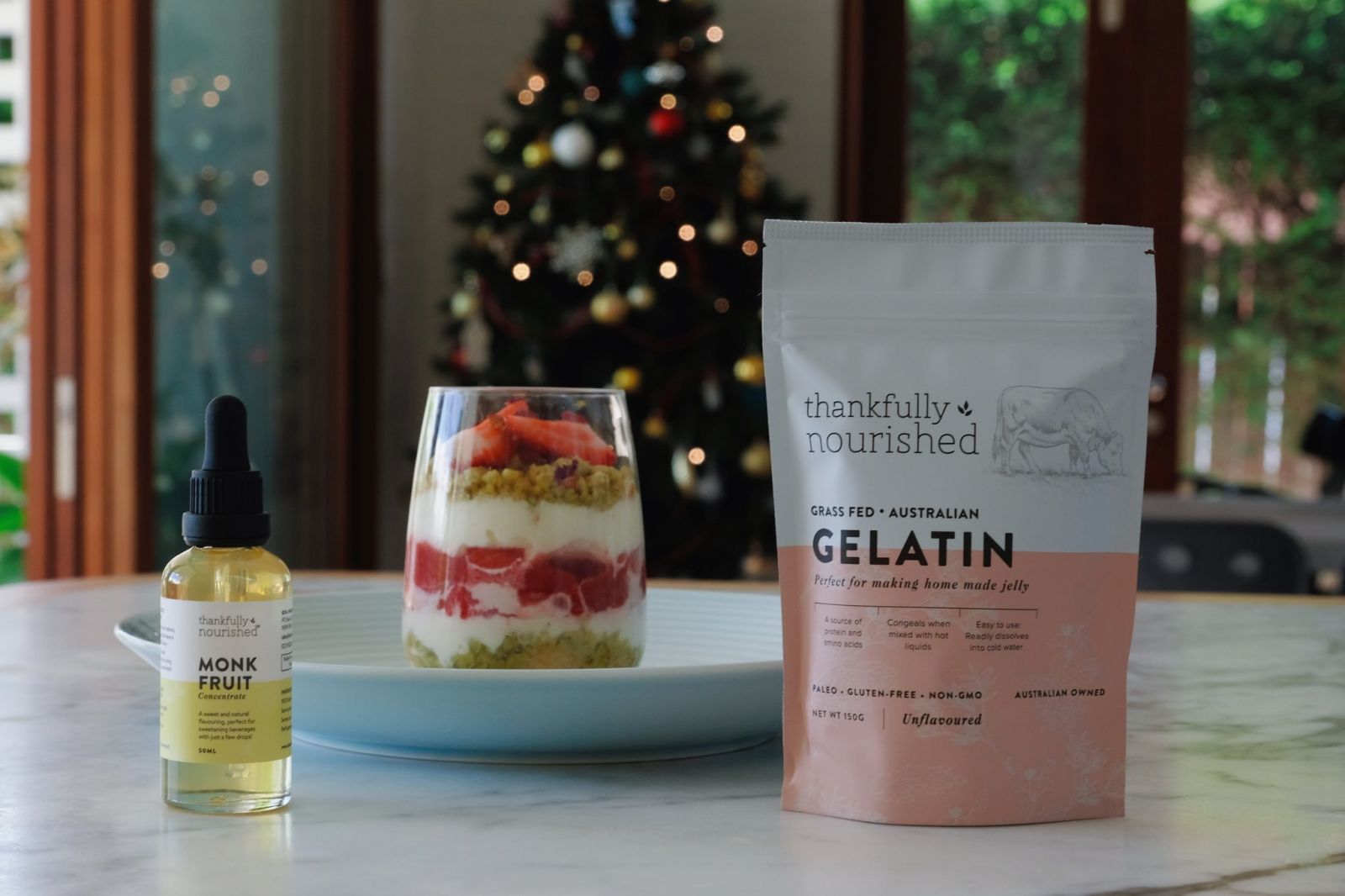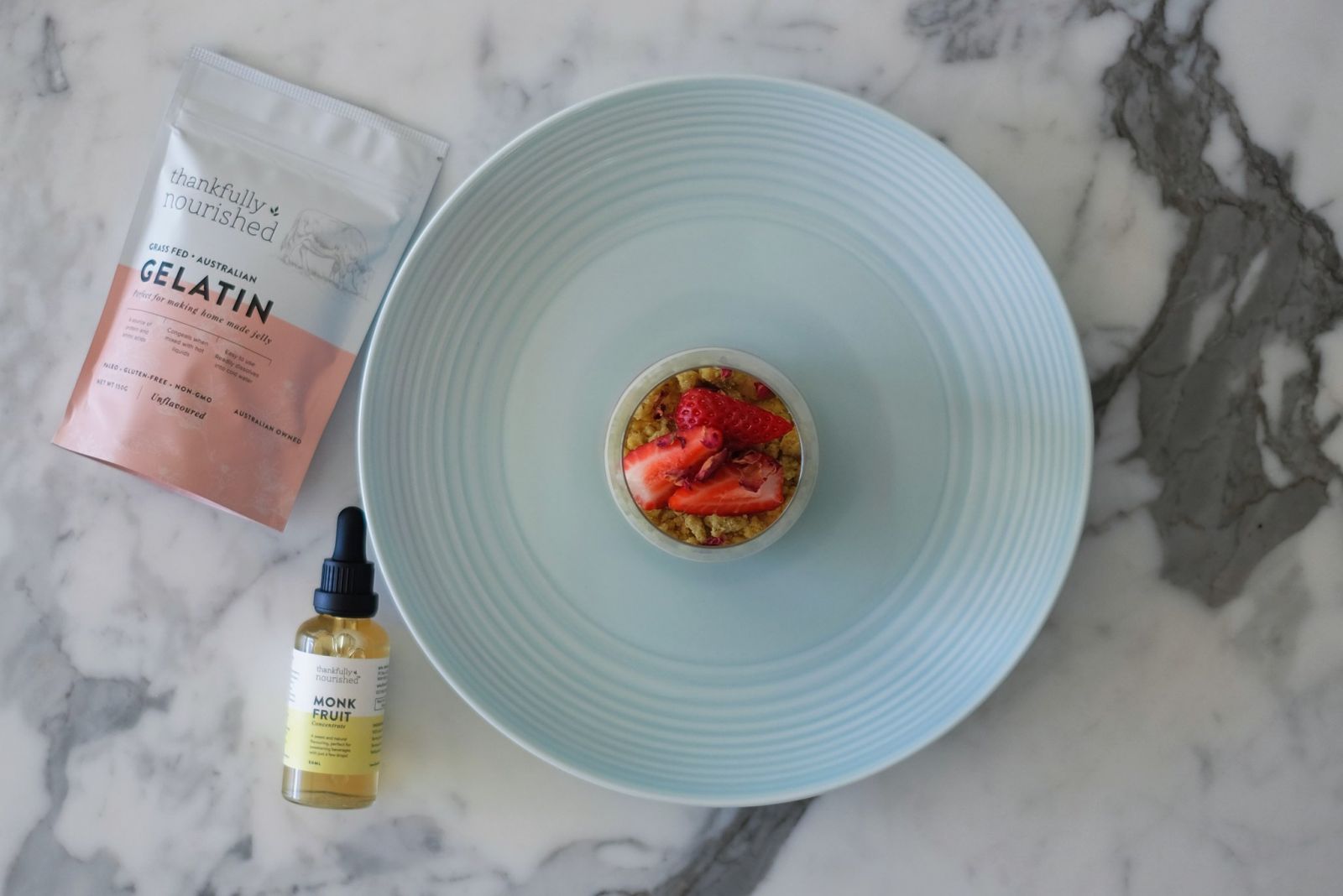 PS