The Ultimate Guide to Nourishing Your Skin This Winter
My biggest challenge to keeping my skin nourished is sticking to a daily routine. I want to cleanse and moisturise regularly, but because I don't usually wear makeup, cleansing and moisturising is not attached to another daily routine.
But then one day I decided that every night straight after I put my children to bed, I would listen to some relaxing music and take 15 minutes to cleanse and moisturise my face. I decided that I would use this as my transition from being a mum to relaxing for the evening. It totally worked and since I made the change I've done it every night without fail.
I discovered I had actually stumbled upon a routine-building habit known as "habit stacking", which is simply attaching a desired routine to another routine that is already happening. I'd love to go deeper into this idea, but maybe it's a topic for another time. But if you're like me and struggle to start a new routine to nourish your skin, attaching it to another routine might get you started.
Our skin is an amazing thing
Our skin is truly amazing. It's our body's largest organ and is the protective cloak that guards us from injury, bacteria and temperature extremes. While every season offers different challenges for keeping our skin healthy, winter can be particularly harsh with its cold winds and low humidity. We spend more time indoors in dry heated environments and we usually drink less water in the colder months. All this contributes to dry, chapped and sometimes cracked skin.
Most of us are familiar with nurturing our skin from the outside with exfoliating scrubs and moisturising creams, but we're not as familiar with nourishing our skin from the inside out. The trick to enjoying healthy and vibrant skin is that we need to do both, from the outside in and from the inside out.
Nourish your skin from the inside with marine collagen
This unique wholefood is filled with nutrients perfect for nourishing your skin, hair and nails. Marine Collagen is known as Type 1 collagen which is the most abundant protein in the human body and critical for healthy skin as well as muscles, joints and bones.
Our bodies naturally produce collagen, but our ability to produce it slows down after we turn twenty five. This results in signs of ageing including dry, thin and wrinkled skin, as well as dull and brittle hair and nails.
A key nutrient in Marine Collagen Australia is the amino acid proline. This is the main component of keratin, which is the protein that makes up our skin, hair and nails. So one way to greatly improve our skin's elasticity and firmness is to include Marine Collagen in our diet. Thankfully our Marine Collagen is easy to take, virtually tasteless and has a 90% absorption rate.
Winter special
This winter we're offering 3 tubs of Marine Collagen Sachets for the price of 2 tubs. It's a buy two get one free deal. You can shop for your Marine Collagen Sachets here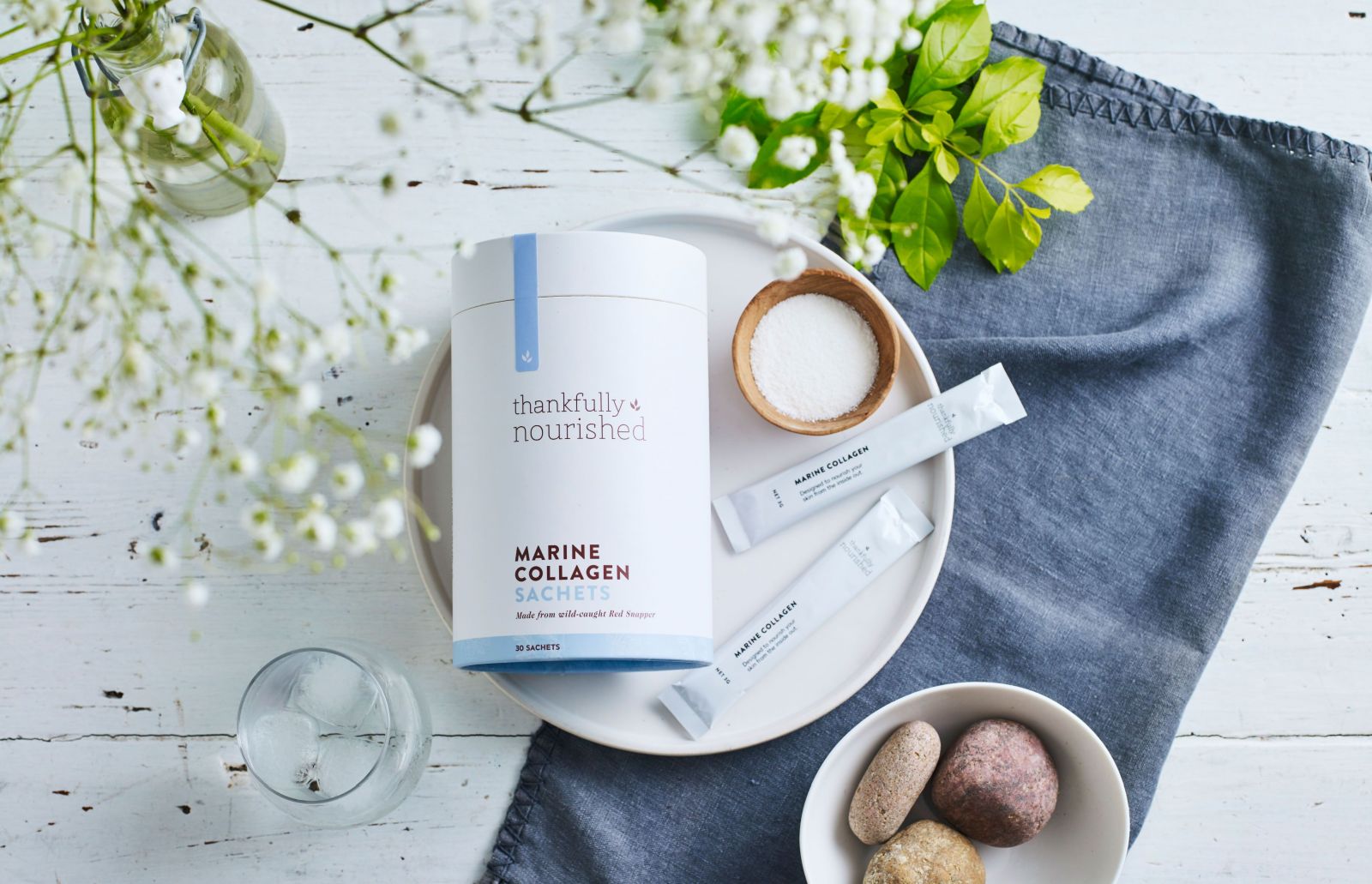 Nourish your skin from the inside by staying well hydrated
We all know that water plays an important role in our digestion and circulation, but it also helps our skin's health and vitality. Health Direct, the Australian Government Health site, recommends adults need between 2 to 2.5 litres per day to stay properly hydrated.
But with a busy lifestyle it's too easy to forget and we end up not drinking enough water throughout the day. I've found the best way to ensure I drink plenty of water is to carry it with me wherever I go. I know bottled water is available everywhere to buy, but I prefer to use my own flask to reduce wastage and avoid the nasties often found in plastic. This is why I created our own Thankfully Nourished double-wall, stainless steel, BPA free water flask. The flasks keep water cold for 24 hours and hot for 12 hours if you use it for tea and coffee. And thankfully they hold 946 mls, which means you only need to fill it twice to get very close to your daily requirement.
Winter special
This winter we're offering 20% off our Thankfully Nourished Water Flasks, which you can shop for here. To get 20% off use the code FLASK at the checkout. Deal ends August 12.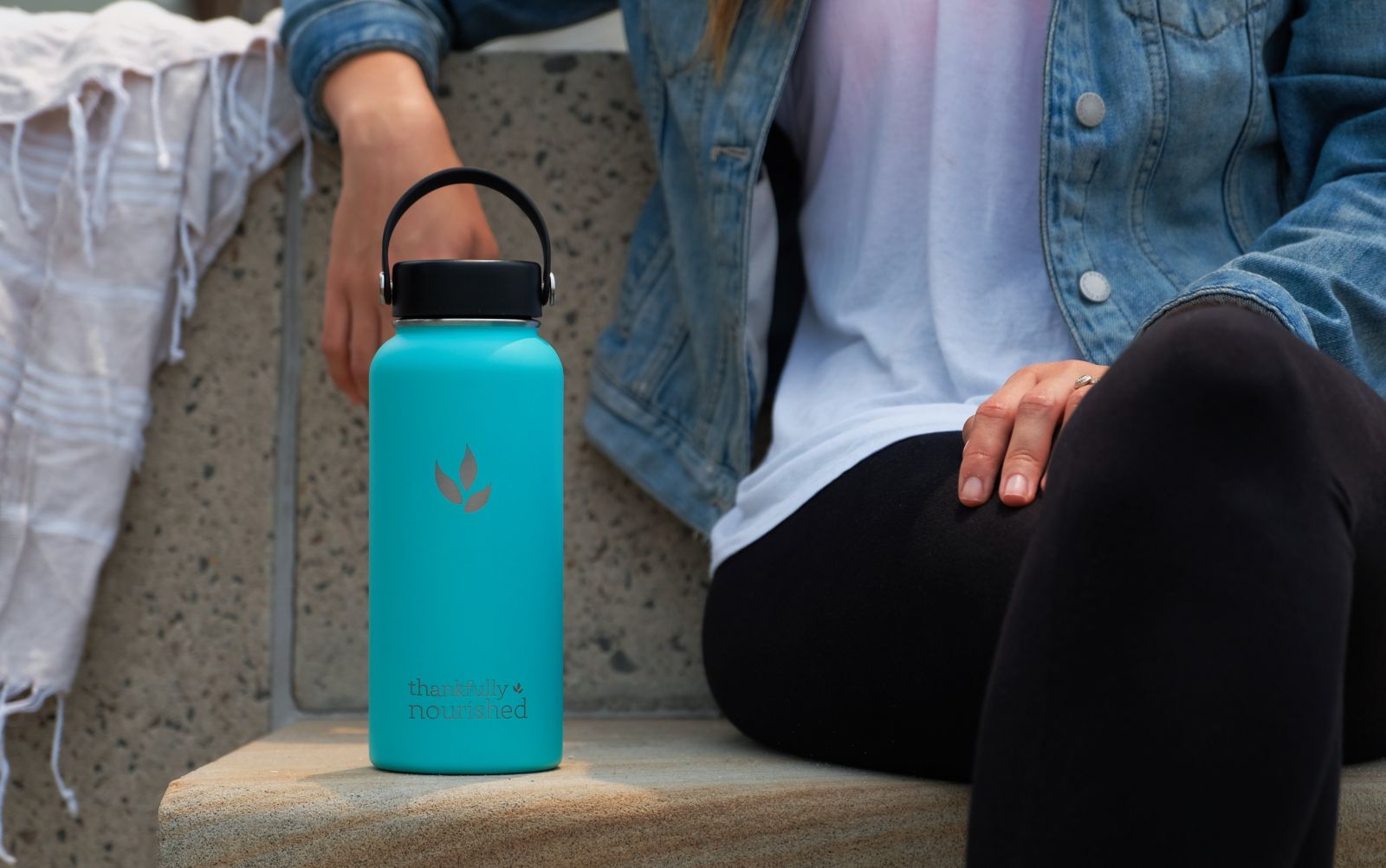 Nourish your skin from the outside with natural products
We have all used skin care products of some kind, but how many of us scan that long list of fine-print ingredients? While our skin acts as our protective cloak, it is not an impervious shield. Much of what we place on our skin is absorbed into the bloodstream.
This means that all those long words and numbers on the side of your moisturiser bottle have an open invitation to your body as soon as you apply the first squirt of cream. Most people have an understanding of the relationship between eating nourishing wholefoods Australia and maintaining good health. What we place on our skin is just as important. Unfortunately, many modern skin care preparations contain synthetic, petroleum-based ingredients, which are then absorbed into our bodies.
This is why we stock the Endota skin care range of products. Endota is well-known and well-loved by many for good reason. Their nourishing, safe and certified organic products are exceptional. Australians are increasingly embracing mother nature and turning to organic products, and we're proud to have this beautiful range of skincare products available for you to use at home. We have quite an extensive Endota range, which you can find here.
Caring for ourselves and optimising our health means making good decisions about everything we put in our bodies—including what we absorb through our skin.
Winter special
This winter we're offering a free Thankfully Nourished Water Flasks when you spend $45 or more on Endota products. Deal ends August 12.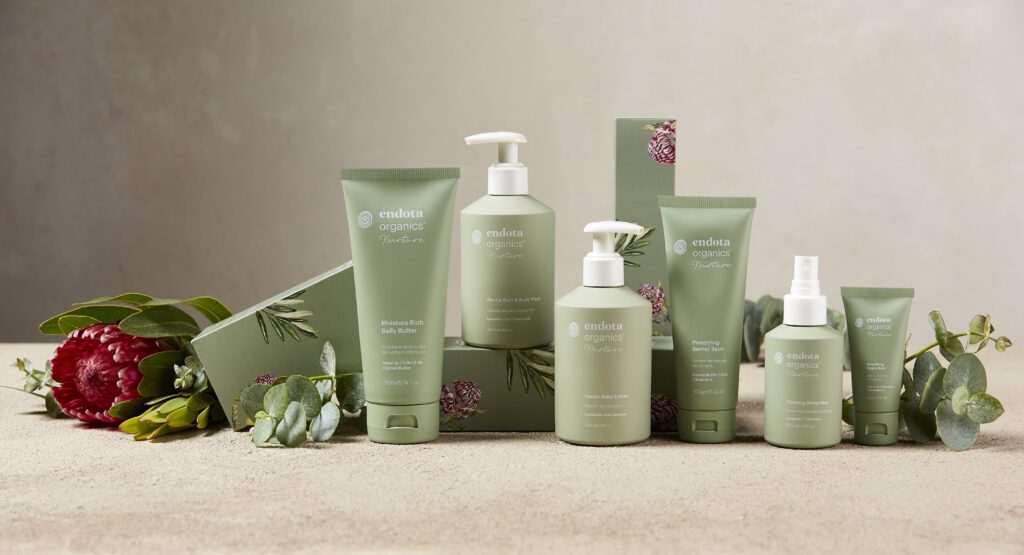 I hope you find these tips and products helpful as you nourish your skin this winter. If you still have any question, just get in touch with us or check out our variety of supplements including bone broth Australia, collagen Australia, collagen hydrolysate, beef gelatin and many more!
Katrina