This scrumptious Frozen Christmas Nougat dessert will make your guests smile and beg you for the recipe! It's cold and creamy with delicious fruit, pistachio and toffee flavours. Just want you want for an Australian Christmas dessert. We call it White Christmas and it's something new (and yummy) to serve this Christmas.
As with all our recipes, this Frozen Nougat is easy to make and filled with goodness. Here's a quick video to show you how to make it, and I've also written up the ingredients and method below. Happy Christmas!
Ingredients
Makes 1 large log, which you can turn out and slice, or 15 individual serves.
20g hazelnuts or almonds

70g rapadura

1 tablespoon water
100g sultanas
125g fresh raspberries
100ml brandy
450ml cream (thick-whipped coconut cream can also work)
15 drops monk fruit concentrate
1 teaspoon vanilla extract
150mls egg whites
200g honey
80g pistachios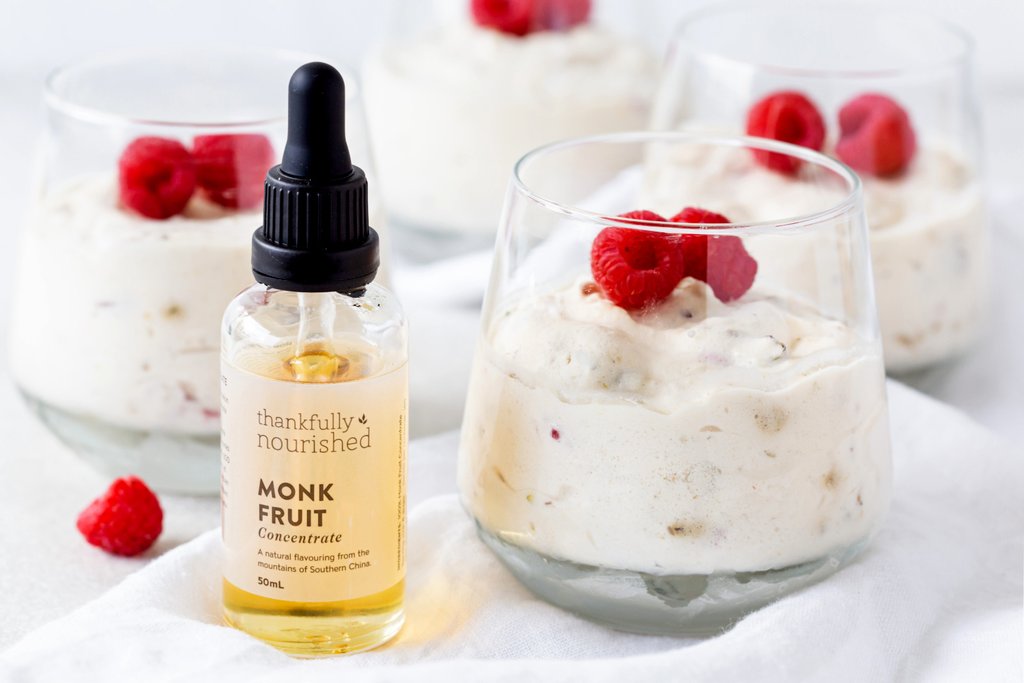 How to make it
Start by making a praline
Place a small sheet of baking paper on a tray and set aside

Place rapadura and water into a very small saucepan or heavy bottomed frypan and mix

to combine
Bring to a simmer, then reduce to lowest heat possible to avoid the sugar burning
Simmer, swirling gently every so often, for around 8 minutes - until it reaches 300F (hard crack stage). You will know it's hit the right temperature if you drop a small amount into a glass of cold water and it turns into a hard ball
Once it hits temperature quickly stir in the hazelnuts/almonds and spoon out onto the prepared baking tray. It will be sticky!
Allow to cool at room temperature. You will know it's worked if it goes hard and snaps into pieces. If it's bendy/stretchy it means the temp wasn't hot enough.
Once cool, blitz in a blender or place in a ziplock bag and smash it with a rolling pin. Set aside
To make the nougat
Rough chop the raspberries and the pistachios and set aside
Place sultanas in a small bowl. Cover with brandy and allow to soak while you complete the other steps
Whip cream, monk fruit and vanilla extract until very stiff. Scoop into a bowl, cover and place in fridge
Separate egg whites from egg yolk and place in mixmaster bowl (Don't waste the egg yolks though, use them make lemon curd for another treat!)
Place honey in a saucepan and bring to a simmer. Reduce heat to very low and simmer for around 4 minutes or until around 250F
While honey is simmering, start beating the egg whites. Once they have reached soft peaks, slowly drizzle in the honey (whilst beating) until well combined. Continue beating on high speed until the egg whites are cool and very stiff.
Now it's time to combine everything! Tip the raspberries, pistachios, praline and the sultana/brandy mix into the beaten egg whites and fold gently.
Add the whipped cream and fold until everything is well combined.
Scoop mixture into oiled silicon moulds and place in freezer for 12 hours.
If you made a log, slice into individual slices. If you used individual dariole moulds, tip out into a bowl, or if you used a glass, simply serve with fresh raspberries. You can also serve with a raspberry puree or coulis if desired