I love it when we can take a classic recipe - that's maybe not so healthy - and with a few simple substitutions make it both nourishing and scrumptious.
Rocky Road is a deliciously, genius combination of marshmallow, jelly, nuts, coconut and chocolate. But the commercial variety usually contains unwanted ingredients such as emulsifiers, 'flavours' and - of course - a whole lot of sugar!
This homemade version is made with gut-loving Australian Gelatin, activated nuts, natural sweeteners and sugar-free chocolate. It's also a great gift idea for special occasions such as Mother's Day, Christmas and Easter.
We hope you love it as much as we do!
What you will need
Marshmallows
60ml water
1.5 tbsp Australian Gelatin
125ml water
1 tsp vanilla essence
1/2 cup erythritol (or 1/3 cup coconut sugar)
10 drops

Monk Fruit

Concentrate
1/8 tsp salt
5 drops natural food colouring (optional)
Jellies
Chocolate
500g sugar free dark chocolate
1 cup mixed nuts, chopped
1/2 cup organic coconut flakes, toasted
How to make them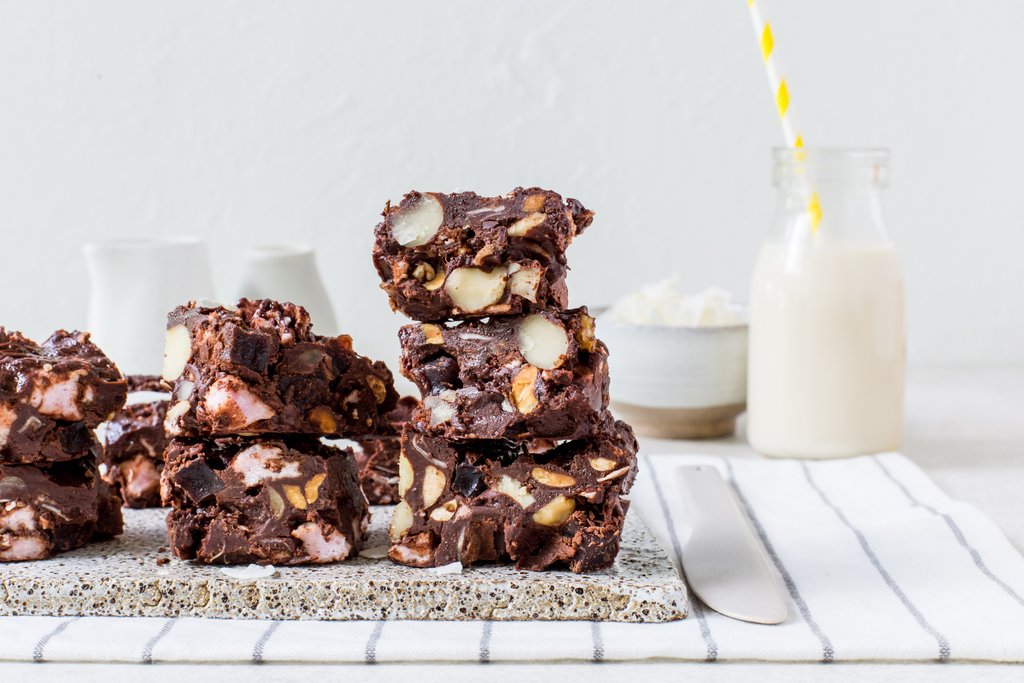 To make the marshmallows
Pour 60ml water into your mixmaster bowl and sprinkle over 1.5 tbsp gelatin. Mix and leave for 5 minutes to bloom.
In a small saucepan add 125ml water, vanilla essence and salt. Pour erythritol (or coconut sugar) into the centre of the saucepan but do not stir. Turn heat on high and bring to a boil. Allow to boil for around 1 minute or so. This will ensure all the sweetener to completely dissolved and not gritty. If you have a thermometer you can check the temperature, which should get to around 104 degrees C.
Turn off heat and give it a stir. Pour this mixture into your mixmaster bowl (over the top of the bloomed gelatin) and then add the Monk Fruit drops.
Turn on the electric beater and mix on high (or use electric hand beaters) until light and fluffy (up to 5 minutes). Pour into lined slice tin and quickly smooth out. Set in fridge for 1 or 2 hours.
To make jellies
Place 280g frozen cherries into a saucepan with a small splash of water, put the lid on and turn onto medium heat. Once cherries are soft and defrosted, blitz them in a blender.
Pour 125mls water into a saucepan and sprinkle over 4 tbsp gelatin. Leave for 5 minutes to bloom.
Turn on the stove and heat the water/gelatin mix until gelatin is dissolved. Turn off heat.
Add pureed cherries and Monk Fruit. Stir well.
Pour mixture into lined slice tin and set in fridge for 1 - 2 hours
To make rocky road
Melt chocolate using a bowl set over a saucepan of simmering water works best.
Cut set marshmallow and jellies into small squares and add to a mixing bowl with nuts and coconut flakes.
Mix through melted chocolate and transfer mixture to a lined slice tin (or add rocky road filling to a slice tin and then pour over chocolate, tilting to cover filling).
Set in fridge for 2 hours.
Once set cut into shapes and keep refrigerated until ready to eat.
Notes
For pink marshmallows, add a few drops of natural food colouring and 1/8 tsp strawberries and cream flavouring.
You can also use

vanilla flavoured monk fruit

in marshmallows (in which case, leave out the out vanilla essence)
Hope you enjoy them!
Katrina