It sounds like a grain - with 'wheat' right there in the name - it looks like a grain, but buckwheat is not a grain! In fact, it's a fruit seed!
Buckwheat's pyramid-shaped pods are the seeds of a broad leafed plant (Fagopyrum esculentum) that was originally cultivated in Asia. This traditional food is related to rhubarb and sorrel and actually has no relationship to wheat. Which means it is gluten free, great news for people who need to avoid gluten, including those with coeliac disease.
And the good news just keeps getting better! The nutty, full-flavoured seeds of buckwheat, known as groats, are high in zinc, manganese, copper, phosphorus, magnesium, B vitamins, protein and soluble fibre.
Buckwheat is also a potential source of resistant starch, which has benefits for colon health, and is rich in flavonoids, including rutin—which is thought to have anti-inflammatory and anticarcinogenic properties. All these goodies bring a range of benefits, including reduced risk of high cholesterol, high blood pressure, heart disease and diabetes.
Buckwheat is available as raw, sprouted or toasted groats, flour or noodles. The best option is raw organic groats, which can be soaked, sprouted and prepared as porridge or granola, or used as a base ingredient in salads, stir fries and veggie burgers. Buckwheat flour is also an excellent alternative to wheat flour that can be blended with other gluten-free flours to make breads, pancakes, and delicious baked treats.
For example, here's a scrumptious breakfast recipe with buckwheat as the nutrient-rich hero.
Watch it, then make it
First, you can watch it being made in 1 minute, then below, we've written up the easy-to-follow recipe for you to make at home.
Baked Buckwheat Brekkie
Serves 4 - 5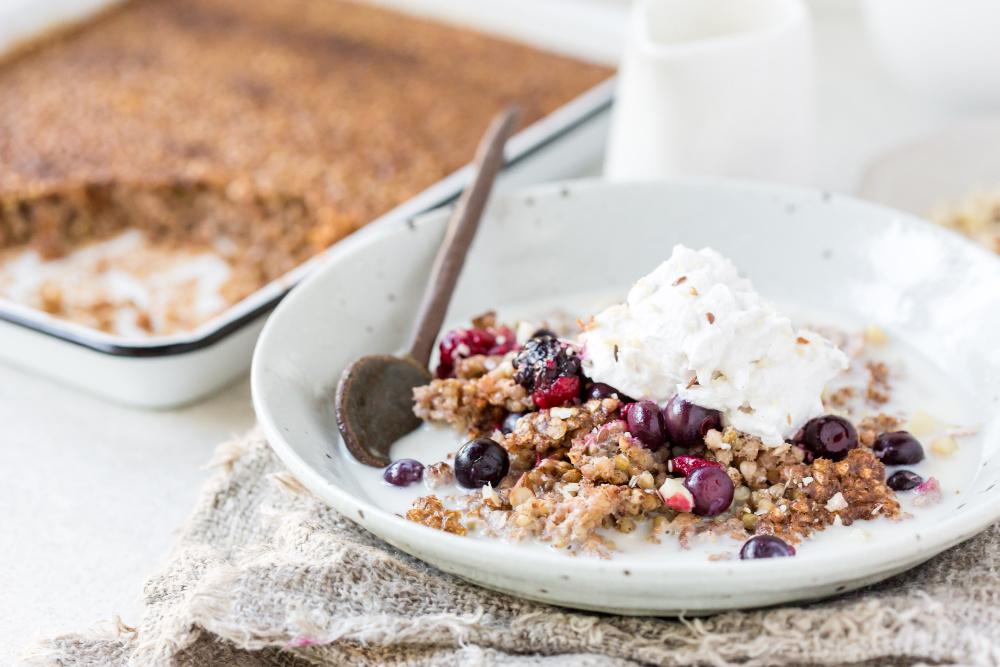 Ingredients
1 1/2 cups of buckwheat groats

warm water with a squeeze of lemon juice or apple cider vinegar

2 eggs

2 tablespoons of maple syrup

1/2 teaspoon of vanilla extract

1 teaspoon of cinnamon

2 tablespoons of collagen

1/4 teaspoon of bicarb soda

1/4 teaspoon of salt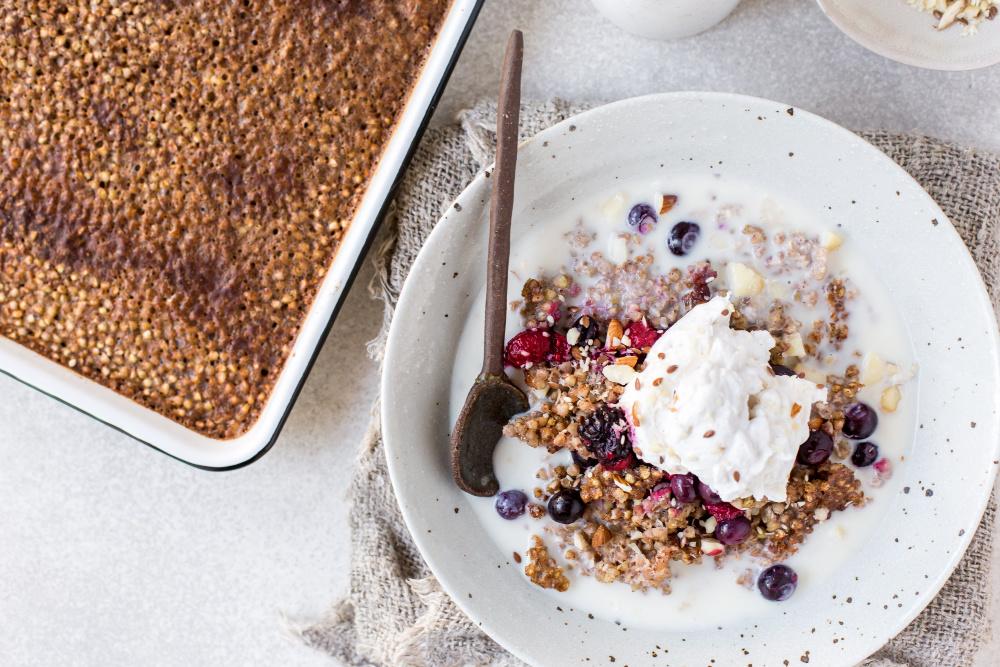 Method
Soak groats in water and lemon juice for 8 - 12hrs. Remember they swell so you need a good amount of water

Drain the water off the buckwheat. It will be a bit slimy because it contains a good amount of the enzyme phytase which has been breaking down the phytates overnight, which is a good thing! So don't worry, just rinse well and add to a medium sized bowl

Add remaining ingredients, whisk and pour into a buttered casserole dish

Bake at 170 degrees for 30 - 35 minutes until a skewer comes out clean and it's golden brown on top.

Serve with warm milk of choice and optional toppings such as yoghurt, cream, berries, nuts and seeds.