The tigernut is not actually a nut but a small root vegetable. It was first discovered in Africa, and got its name from the stripy, dark and light exterior you'd most likely see on a big cat. They look a bit like a peanut,
Sustainably harvested by local Nigerian farmers, Power Super Foods tigernuts are carefully extracted then naturally dried, skinned and milled into extra fine flour.
Tigernut flour has a mildly sweet vanilla taste and is ideal for baking/cooking.
Power Super Foods Tigernut Flour is:
Australian Certified Organic
Fair Trade and sustainably sourced
Paleo-friendly
Gluten free and nut free
Perfect for combining with other gluten free flours or used on it's own
A source of prebiotic fiber, iron, potassium, protein, magnesium, zinc, and vitamins E and C
Has 50% less carbs than regular wheat flour
Tigernuts also contain a high level of resistant starch, which reaches the colon intact. Resistant starch promotes prebiotic growth and supports a healthy immune and digestive track.
Size: 300g
Ingredients: Certified Organic Skinned Tigernut Flour (Cyperus esculentus)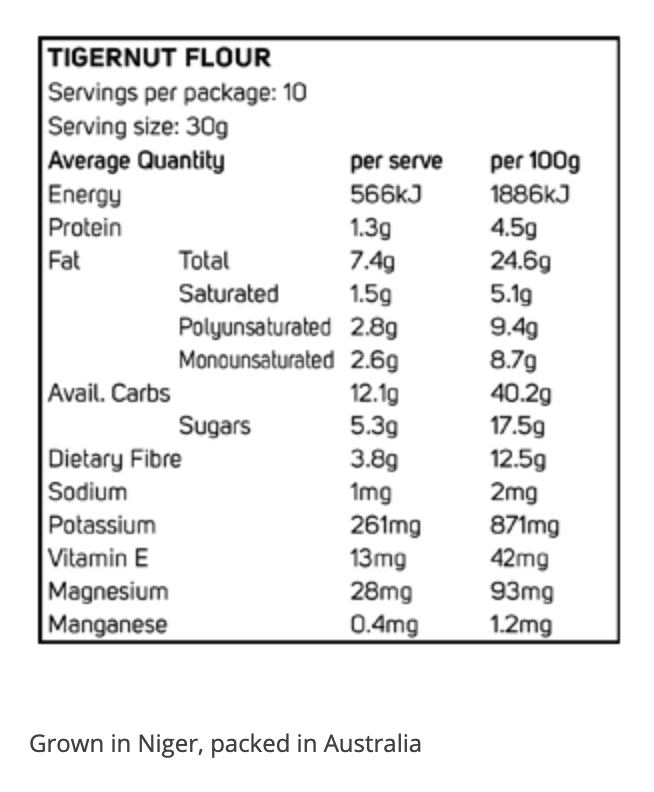 | | |
| --- | --- |
| SKU | PSF-TF12 |
| Brand | Power Super Foods |
What some of our customers have to say