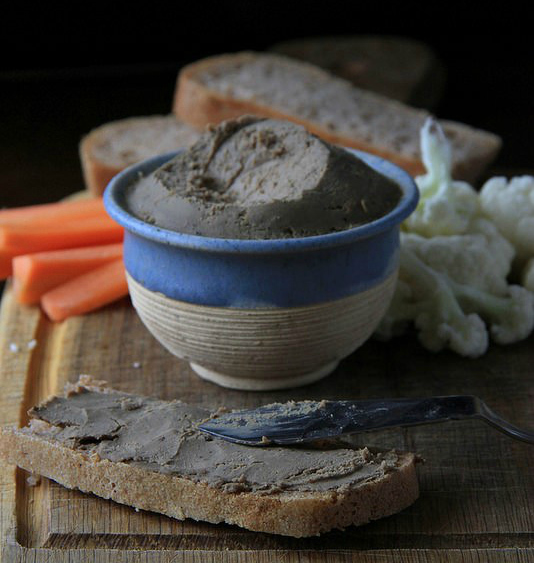 We've just made ... and actually enjoyed a tasty, nutrient-rich liver pate.
Now before you say 'no way', let us tell you that it was really quite good. And this is coming from people who really, and we mean REALLY did not like pate. Not a bit.
But ... this recipe has two secret ingredients that we think has made all the difference.
Secret ingredient number 1: Allspice
Secret ingredient number 2: Grass-fed organic Ghee
The result is that this pate is both delicious and filled with all the fat soluble vitamins Weston Price found to be so rich in traditional diets including K2, B12 and A.
Liver Pâté
Makes 8 - 10 serves per recipe (85g serves) Prep: 30 mins
150g Sol Ghee* or butter
1 very large or 2 med onion (200g)
2 garlic cloves
400g liver (beef, lamb, or chicken)
1 tsp salt
1 ½ tsp allspice
¼ tsp pepper
2 tsp whipping cream (or milk alternative or water for dairy free)
Method:
Roughly chop onion and cook on low heat in ghee until caramelised.
Slice the liver, removing any membrane. Chop garlic and add to onion for about five minutes.
Using a slotted spoon, remove the onions and garlic to a food processor or high speed blender. Cook the liver on medium heat in the remaining fat, until cooked through.
Let the liver and fat cool for a few minutes, then add to food processor. Add salt, allspice, pepper and cream (or milk alternative or water). Blend until smooth.
Line a container with plastic wrap and smooth the pate into the container so that when it chills you can turn the container over and peel away the plastic wrap, making the pate easy to slice. Alternatively put the pate in a bowl and scoop it out as needed.
Chill in the fridge and serve.
*The recipe uses Sol Ghee which is handmade in Byron Bay from certified organic unsalted butter from Australian grass fed cows. It's nutrient rich and totally scrumptious!
You can learn more about the benefits and best sources of Vitamin A on our blog here.
Want more delicious recipes delivered straight to your email? Subscribe to our e-Newsletter and be the first to know.