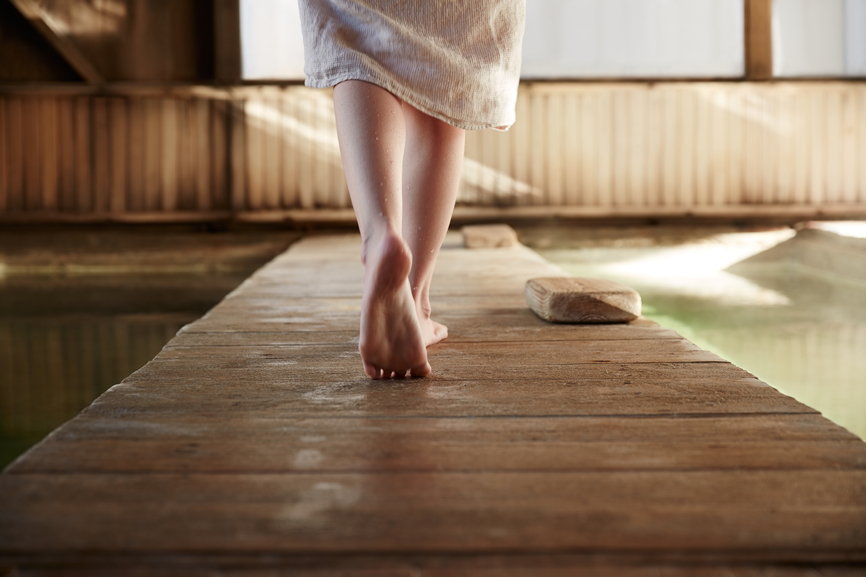 While every season offers different challenges for keeping our skin healthy, winter can be particularly harsh with its cold winds and low humidity. We spend more time indoors in dry heated environments, and usually drink less water in the colder months. All this contributes to unhealthy, dry, chapped and sometimes cracked skin.
Our skin is our body's largest organ and we need to take good care of it. It is the protective cloak that guards us from injury, bacteria and temperature extremes.
The secret to maintaining healthy, strong and flexible skin can be found in the hot healing springs of the world.
The Beauty of Hot Springs
Anyone who has had the pleasure of bathing in a therapeutic hot spring has experienced the phenomenal effect that mineral rich waters have on the skin. The reason, is that hot springs are rich in trace minerals – bicarbonates, chlorides, boron, magnesium, potassium and natural salts. These help the body to eliminate toxins and promote its health and healing. Some of the most important trace minerals found in hot springs are sulfur and sulfate which work to detoxify and clarify the skin and help it to retain water.
Every cell in the body contains sulfur and appears as keratin in its most concentrated form, which is important for the formation of strong, healthy skin, hair and nails.
Many of the foods in nourishing traditional diets are sulfur-rich, which explains the reports of improved skin, hair and nail strength. These foods include red meats, organ meats, poultry, fish, eggs, legumes and beans, whole milk and dairy products.
In addition to a rich-sulfur diet, we can apply it topically.
Dr Ron's Pure Body Care
For those seeking the skin benefits of topical sulfur application, many of Dr Ron's Ultra Pure Body Care products contain generous amounts of MSM (methylsulfonylmethane), a natural substance rich in biological sulfur. Including MSM-based care to our daily routine essentially gives us the same skin benefits as hot spring soaking.
Dr Ron's is a gentle, nutrient-dense range of skin and hair care products, formulated using pure essential oils and botanical extracts. They contain soothing and effective ingredients for improved skin elasticity, flexibility and moisture retention.
These products are free from sodium lauryl sulphate (SLS), propylene glycol, alcohol and parabens and contain beneficial alpha lipoic acid, ASC III complex, DMAE, CoEnzyme Q10 and topically absorbable forms of vitamins A and C.
For these reasons I encourage you to consider this range of products if you'd like to take good care of your skin this winter.
You can view Dr Ron's skin care range here.
Nourishing our skin with pure, high-nutrient skin care products can not only help to keep our outer layer healthy, but can also promote improved wellbeing for our entire body.
Stay nourished,
Katrina
...
PS. Here's a little deal for you. If you order an item from the MSM cream range you can get a facial wash or scrub at 30% off. The discount will apply automatically when you have both items in your cart. You can find the Dr Ron's Skin Care range here.