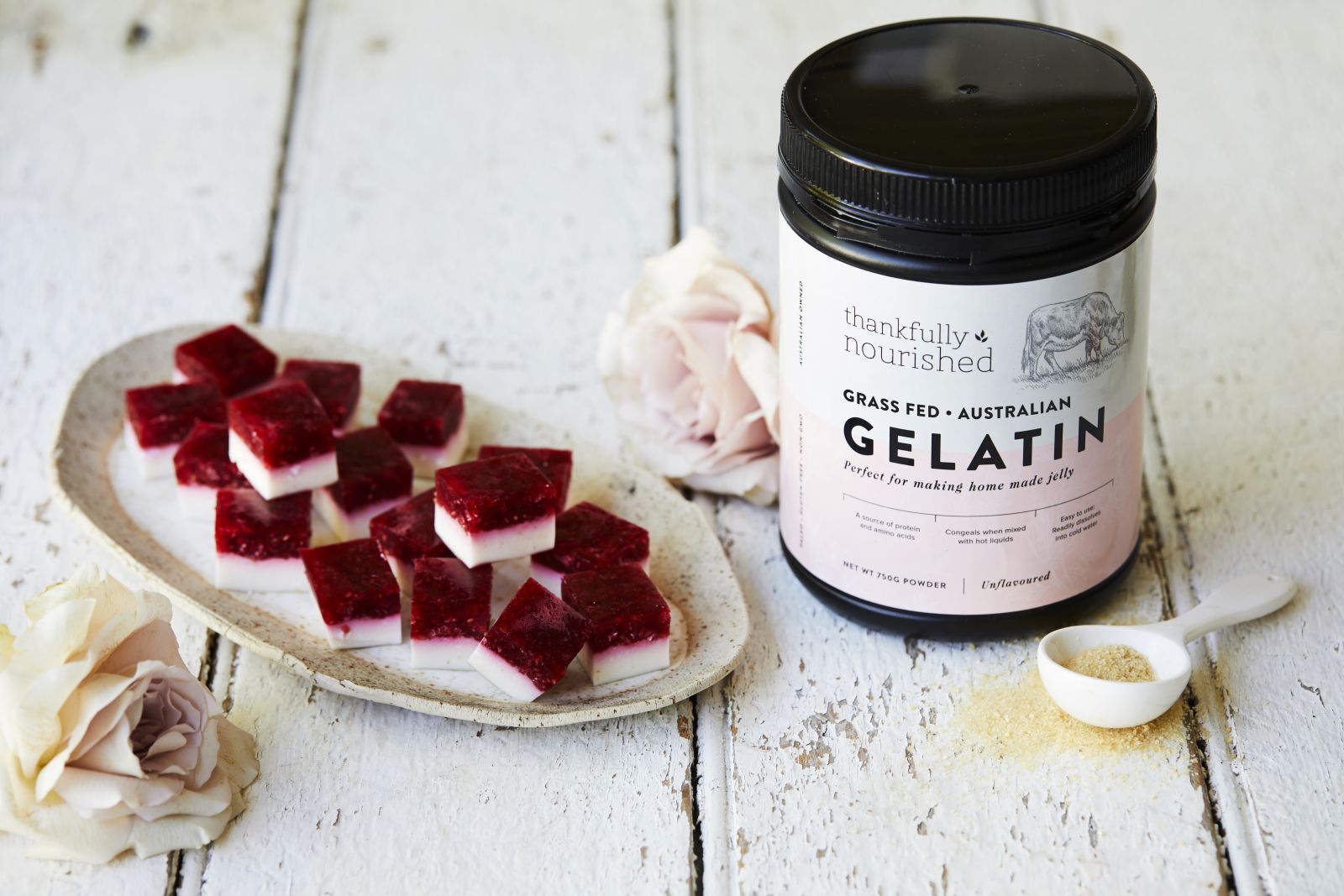 Who said getting extra protein had to be boring? Not us, and not with these easy to make Raspberry & Coconut Gummi (or jelly) Squares. Incorporating the goodness of gelatin and all of the yumminess of raspberries and coconut, this revamped GPA Wholefoods recipe will have everyone asking for more. And, you'll know they are getting all the benefits of gelatin. Learn more about the hidden benefits of gelatin here.
Thankfully Nourished Australian Gelatin
Raspberry & Coconut Gummi Squares
Makes 30 Prep: 10 mins (+ 4 hours in fridge) Cooking: 10 mins
Bottom Layer:
400ml can coconut milk (full cream)
100mls water
4 tsp vanilla extract
20 drops Monk Fruit Concentrate
2 tablespoons Gelatin
1/3 cup water
Top Layer:
180g frozen raspberries
1/3 cup water
30 drops Monk Fruit Concentrate Vanilla (or 1 Tablespoon honey)
1 Tablespoon Gelatin
2 Tablespoons water
Method
Bottom Layer Method:
Place 1/3 cup water into a small saucepan and sprinkle on 2 TB gelatin. Leave for 5 minutes to bloom and thicken
Empty coconut milk into a measuring jug and top up with 100mls water (so you have 500mls total liquid)
Add vanilla extract and monk fruit concentrate
Go back to the water/gelatin mix on the stove. Heat gently until hot but not boiling. Stir well until dissolved
Pour the water/gelatin mix into the measuring jug with the coconut milk
Grease a large glass pyrex dish or a baking tray and pour in your mixture. Place in fridge for 2 hours until set
After 90 minutes, start preparing the top layer
Place 1/4 cup water into a small saucepan and sprinkle on 2 TB gelatin. Leave for 5 minutes to bloom and thicken
Measure 180g raspberries into a saucepan. Add 1/3 cup water and Monk Fruit vanilla
Heat gently and stir until the raspberries are broken up and the mixture is hot but not boiling.
Pour raspberry mix into a blender and blitz until smooth, then pour back into the saucepan.
Add the gelatin and stir until dissolved.
Allow to cool down until it's just warm to touch (you can speed this up by putting the raspberry mix into a bowl in the fridge for 15 minutes. Otherwise, just wait until it cools on the stove)
Spread raspberry mix over the top of the bottom coconut layer and place back in the fridge to set.
Cut into squares and enjoy as a nourishing snack!
Want more delicious recipes delivered straight to your email? Subscribe to our e-Newsletter and be the first to know.