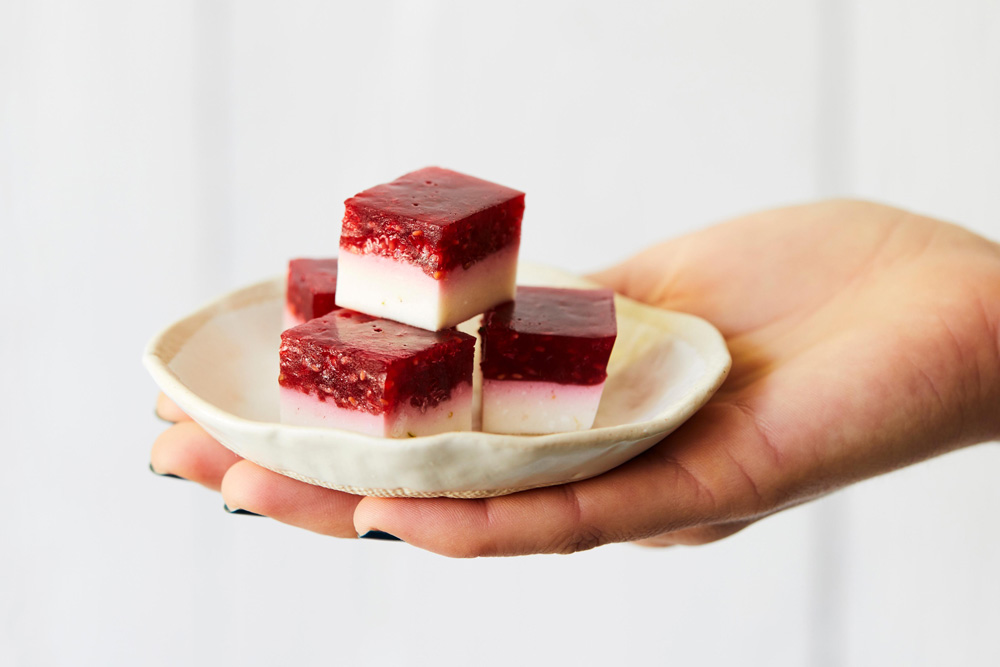 Starting at the beginning, what is gelatin?
Gelatin is a source of important nutrients, a type of protein derived from collagen found in animal parts that provide us with crucial amino acids or the building blocks of proteins.
It's typically, virtually tasteless and colourless meaning it can be easily consumed making it a nutritious, beneficial product for the whole family. And that sticky, gelatinous quality it has - the bit that makes jelly desserts fun - it's one of things that makes it fantastic when we consume it. That texture is what helps to form strong cartilage or connective tissue which, in turn, gives elasticity to parts of our body. But that's not all, it's also packed with many hidden treasures that are of great benefit and use to healthy bodies, young and old.
Hidden Benefits of Gelatin
Improves skin health
Improves the quality of sleep
Improves cognitive ability and lifts your mood
Helps maintain strong bones
Helps maintain a healthy heart
Helps you to feel full
Protects joints and lowers joint pain
Additionally, gelatin can also improve gut health and digestion. Gelatin can prevent leaky gut syndrome and permeability by improving the lining of your digestive tract and preventing intestinal damage. Why is this important to gut health and digestion? Your gut lining ensure that yeast, bacteria and food particles stay inside the digestive system and eliminates leakage into your bloodstream where inflammation is triggered.
Gelatin can also increase your body's ability to produce enough gastric acid secretions to ensure adequate nutrient absorption and correct digestion. It can restore a healthy mucosal lining in your stomach, aiding the appropriate balance of stomach acid and digestive enzymes, therefore reducing or eliminating common digestive issues such as indigestion, bloating, acid reflux, and nutrient deficiencies, as well as anemia.
And, gelatin can also absorb fluids and water aiding in preventing a bloated stomach and fluid retention as well as improving constipation.
Many people are not consuming enough gelatin as our diets have steered away from the most prevalent sources, animal parts such as tendons, marrow and skin. However, adding more gelatin to your diet, and the diet of your growing family, and enjoying the benefits is easy with a range of easy to use and consume products available. It's now super easy for mums to ensure their families are getting all the hidden benefits of gelatin, without picky eaters even realising it.
An easy way to add more gelatin to your family's diet is with the GPA Wholefoods Raspberry & Coconut Gummi Squares or Berry & Chia Jam on Toast.
GPA Wholefoods gelatin product recommendations:
Thankfully Nourished Australian Gelatin
Derived from 100% Australian beef cattle, free range and grass fed
Available in 400g and 150g size pouches
A source of protein and amino acids, which can be added to smoothies and baked goods
Perfect for making jelly and gummy bears
Easy to use - dissolves and gels easily without clumping
GMO and MSG free
Gluten, dairy and soy free
Great Lakes Gelatin
Great Lakes Gelatin is produced from pasture-raised beef cattle hides from Brazil. It is derived from further processing bovine collagen which gives it the ability congeals the liquids it is added to. It's perfect for;
Adding to sauces
Making jellies and puddings
Adding to smoothies
Great Lakes Gelatin gelatin is an easy-to-use powder which has an indefinite shelf life when stored in a dry, well ventilated environment.
Update 2023
Unfortunately, Great Lakes Gelatin is no longer available in Australia.