The wonderful nutrient rich properties of Matcha is well-known. It's a cherished Japanese remedy to take care of your skin and entire body! Matcha is rich in antioxidants, amino acids and chlorophyll to help nourish, detoxify and protect your skin. Traditionally Matcha is enjoyed as a tea, but it is also wonderful to cook with!
Here's two amazing desserts we absolutely love. Scrumptious, nutritious and they look amazing!
Matcha Milk and Honey Pudding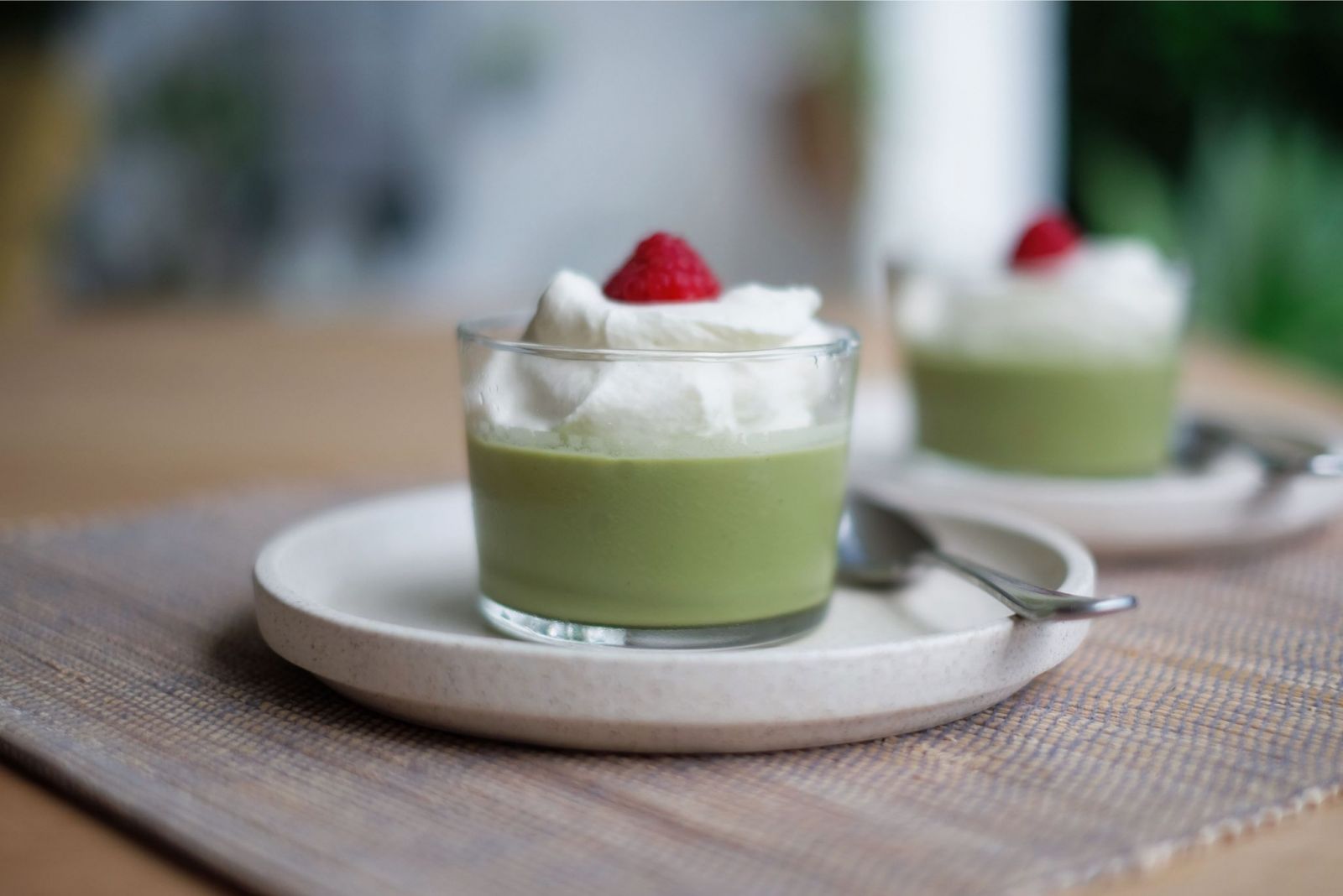 This is a great little treat as it's easy, quick and delicious. It's not only smooth on the palate, but has a great matcha flavour which intensifies even more the following day. The tang of the raw honey is a wonderful complement to the flavour of the matcha, but of course a sugar alternative like Thankfully Nourished Monk Fruit Concentrate can be used as well.
Ingredients
Makes two serves
1 cup milk (coconut or dairy are nice, but you can use whichever milk you like)
2 tbsp warm water
1 tbsp raw organic honey
1 ½ tsp Thankfully Nourished Culinary Matcha whisked with a tbsp of water
1 tsp vanilla extract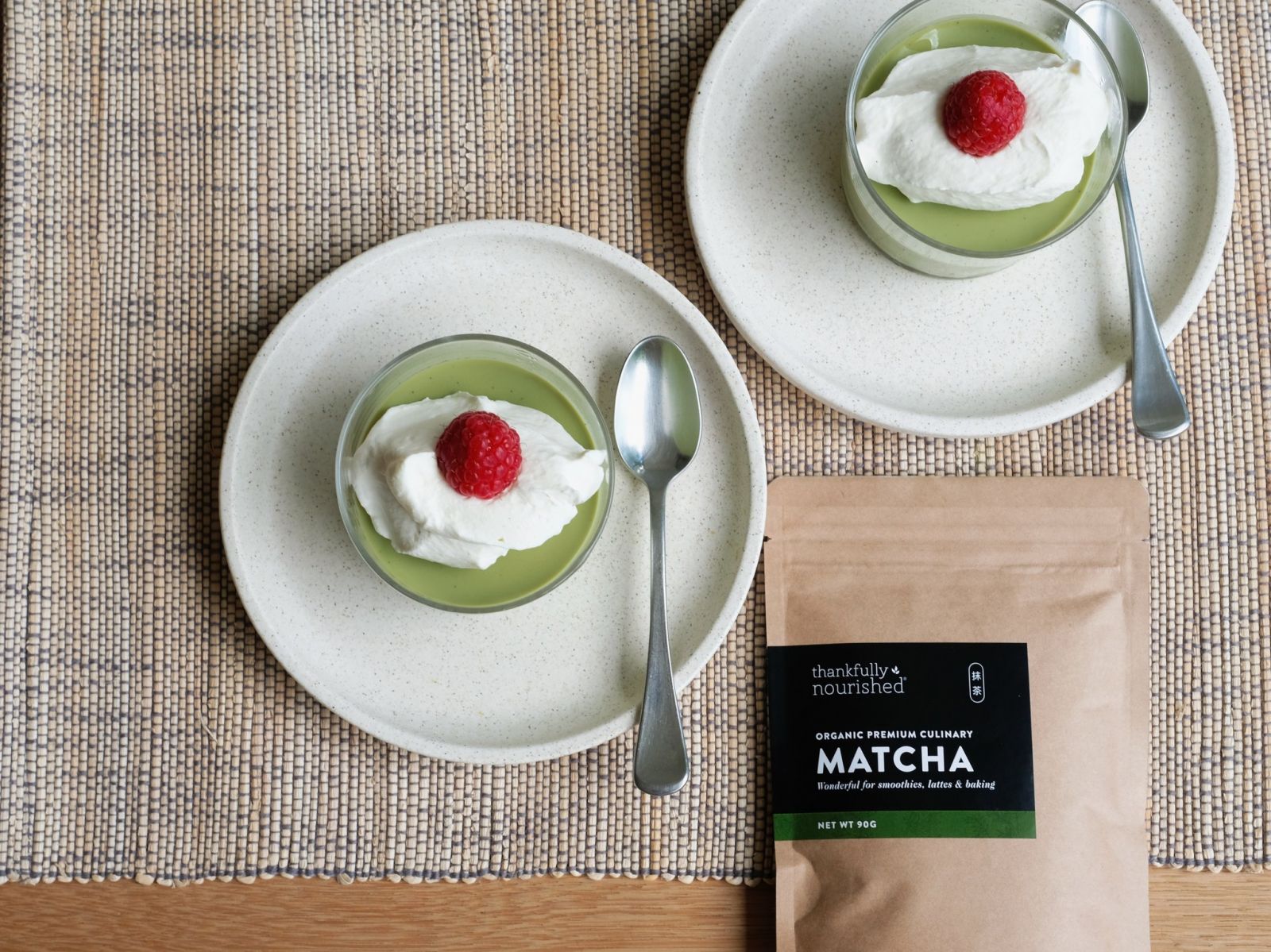 How to make it
Place the Gelatin powder and the warm water in a small bowl together to bloom
Meanwhile, place the milk, honey, Matcha and vanilla in a saucepan to warm on low heat.

Once it has heated to a low simmer, turn off heat, add the gelatin and stir until dissolved.

Pour into two glasses or bowls.

Set in the fridge for at least 4 hours but preferably overnight.

To serve, top with cream, whipped coconut cream or yoghurt and raspberries or any garnish of your choice.
Matcha Cheesecake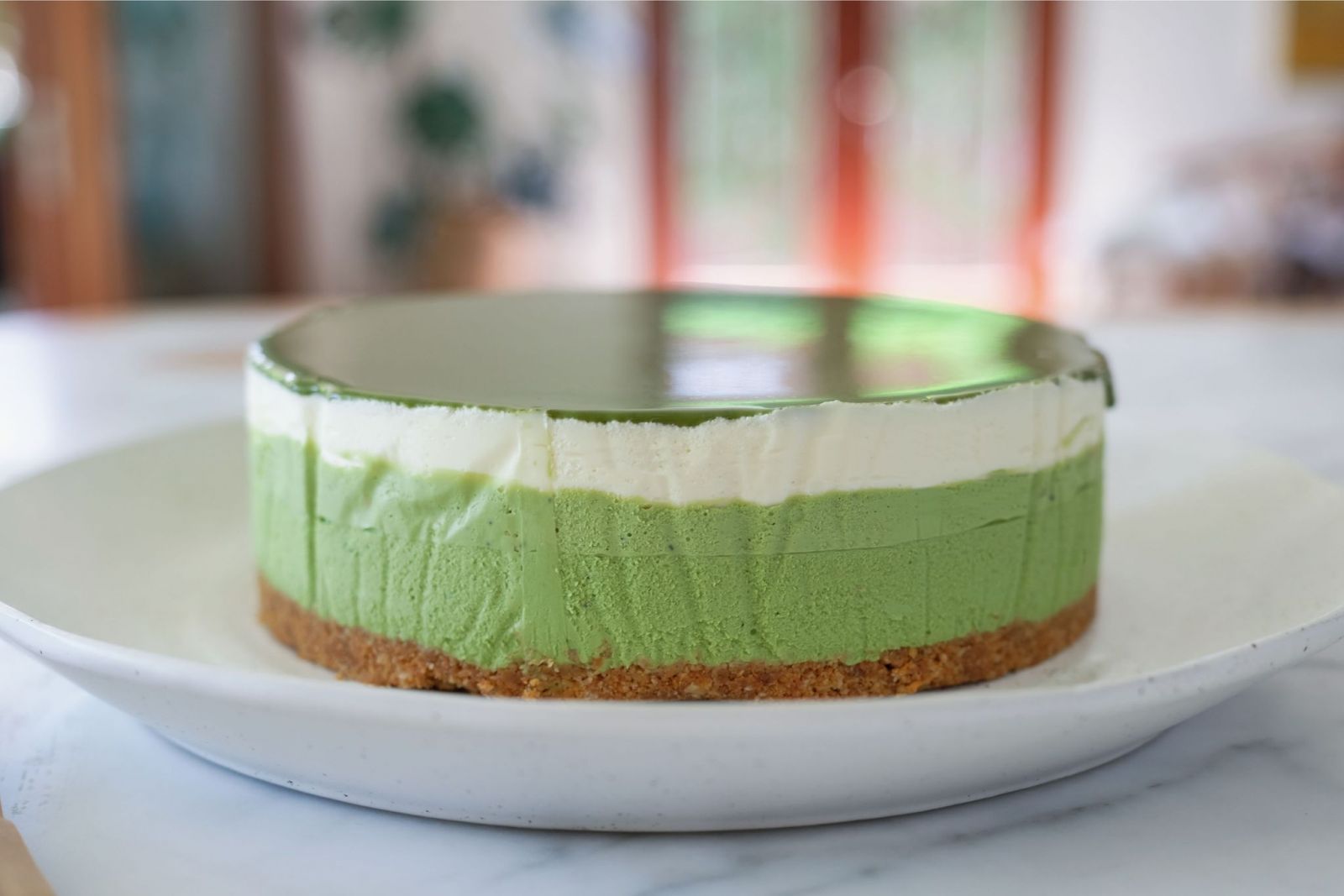 This cheesecake is quite a treat! The full-flavour of the matcha sings in complete harmony with the white chocolate. The soft smooth texture of the cheesecake is just wonderful paired with the almond crust.
You will need a round 20cm springform tin. Makes one large cheesecake enough for 12 serves.
Ingredients for the crust
215g activated almonds

30g melted butter

50g Whole Earth Monk Fruit granulated sugar replacer

50g melted butter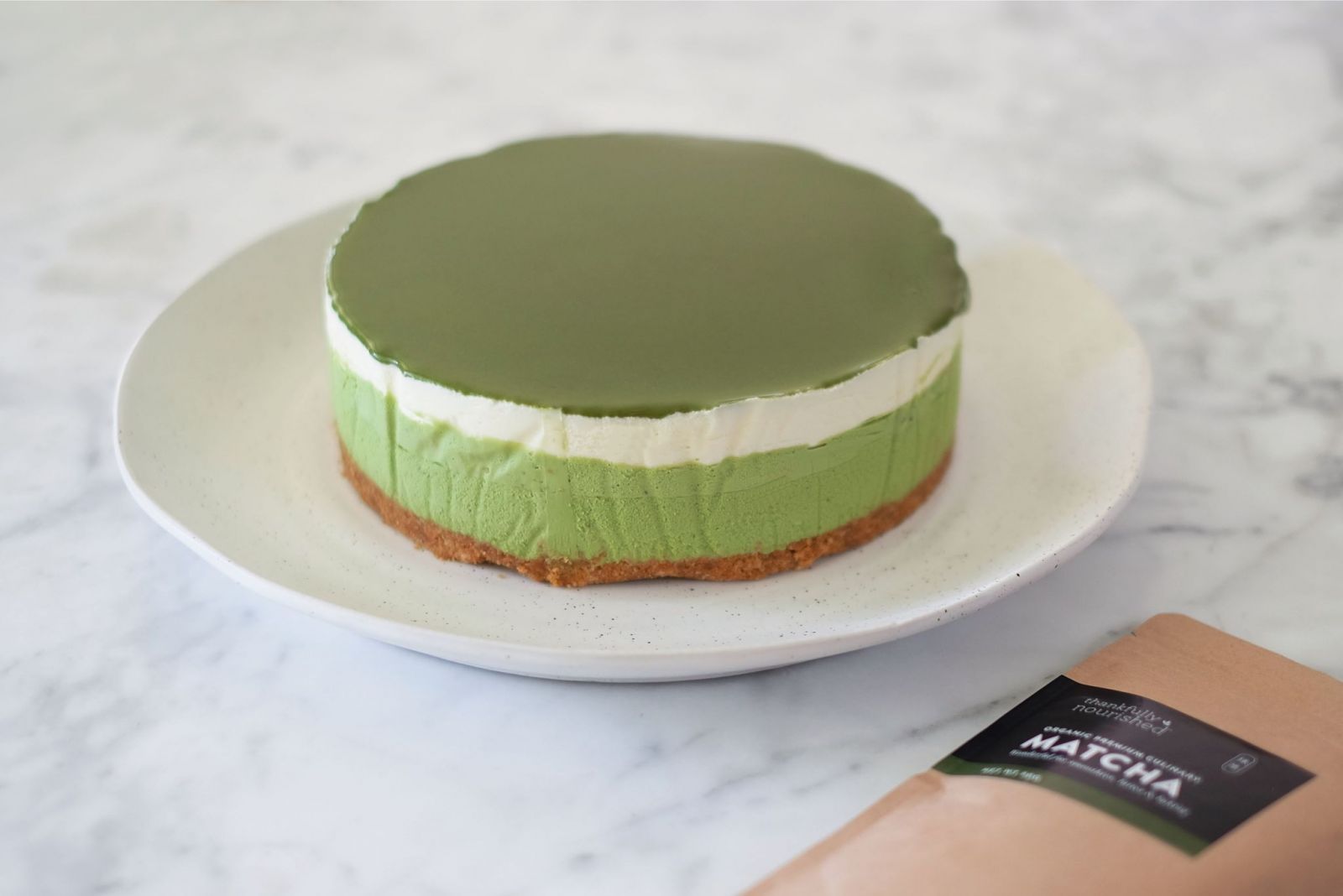 Ingredients for the cake
600g cream cheese
120g Whole Earth Monk Fruit granulated sugar replacer
90g milk
15g (5 tsp) Thankfully Nourished Gelatin
150g Well Naturally sugar free white chocolate, finely chopped, (cocoa butter can be an alternative here, just add an extra 30 drops Thankfully Nourished Monk Fruit Concentrate)
375g cream
150g cream
Ingredients for the matcha glaze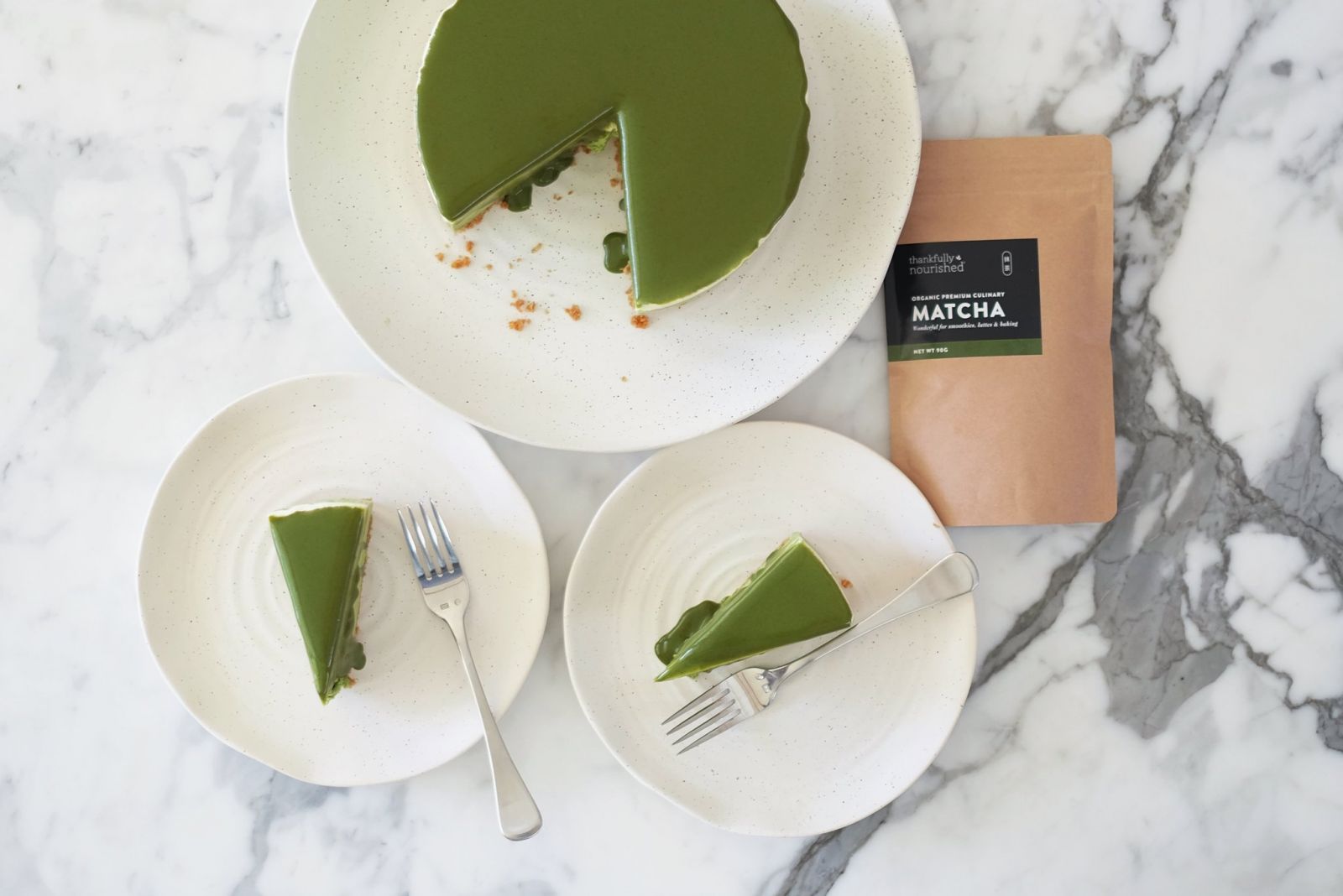 How to make it
Grease and line a 20cm springform or loose bottom tin with greaseproof paper.
For the crust
Pulse almonds in a food processor until you have a fine crumb that resembles almond meal.

Combine with the

monk fruit sugar replacer and melted butter and push into the base of the prepared tin. The bottom of a drinking glass is very handy for this job. Once you have evenly pressed the base into the tin, pop it into the fridge for at least an hour to set.
For the cake
Combine the cream cheese and monk fruit sugar replacer in a bowl and beat until soft and creamy.

In a separate little bowl stir the gelatin into the milk and set into a slightly larger bowl of just boiled water and stir to soften. Once softened and creamy, pour the gelatin mixture into the cream cheese mixture. Mix to combine.

Place the white chocolate (or cocoa butter) into a ceramic or glass bowl and into the microwave to melt for 20 seconds. Stir until it is melted. It may not look melted when you pull it from the microwave but give it a stir and it should be fine.

Now add the cream to the melted chocolate and stir thoroughly to combine.

Beat the cream mixture into the cream cheese mixture until combined.

Weigh out 450g of the mixture and set aside.

In a separate small bowl whisk the matcha powder into about half of the remaining cream until a paste forms free of lumps. Now add the remaining cream and whisk until combined.

Add the matcha mix into the larger cream cheese mix and stir until the colour is even.

Now pour the matcha cheese cake mix into your lined cake tin with the almond base and smooth out the top and cover with a little cling film and pop into the freezer for 10 minutes.

Now add your white layer, smooth out the top and place in the freezer for another 10 minutes.
For the glaze
Combine the gelatin and water in a small bowl and set aside to bloom.

Combine the remaining ingredients into a saucepan and set over a medium heat and stir to dissolve the matcha.

Once it is simmering add the cream and stir to combine.

Now take it off the heat and add the gelatin mixture and stir to dissolve.

Pouring it into a bowl through a strainer will insure you have no lumps.

Now pour the slightly cooled glaze onto your cheesecake and set in the fridge for at least 6 hours.
I hope your family and guests love these two delicious and nutrient rich treats.
Katrina