It's not what you see, but what you don't see that's harmful
Every home has invisible pollutants, volatile organic compounds (VOCs), germs and pollens. Simple daily tasks like cooking, cleaning and playing with pets contribute to low air quality, as well as aerosol sprays, mould spores and dust mites, which have an impact on those who reside in the home.
Why Air Purifiers are important for every home
Indoor Air Quality is often worse than Outdoor Air Quality, which is why it's vitally important to have a way to detect and remove these invisible pollutants and allergens
Bad Air Quality can impact our health dramatically, especially for young children, the elderly and those with respiratory issues or cardiovascular disease
Common sources of indoor air pollutants include: building materials and painted surfaces, household products, cleaning products, aerosol sprays and candles, various human indoor activities (explained above), and external pollution being trapped indoors
Poor indoor air quality may produce a range of health effects from mild and generally non-specific symptoms such as headaches, tiredness or lethargy, to more severe effects such as aggravation of asthma and allergic responses
How it works
Thankfully Pure uses the latest technology to continually sense and remove harmful pollutants, germs, volatile organic compounds, ultra-fine particulate and pollen in your home through six meticulous steps.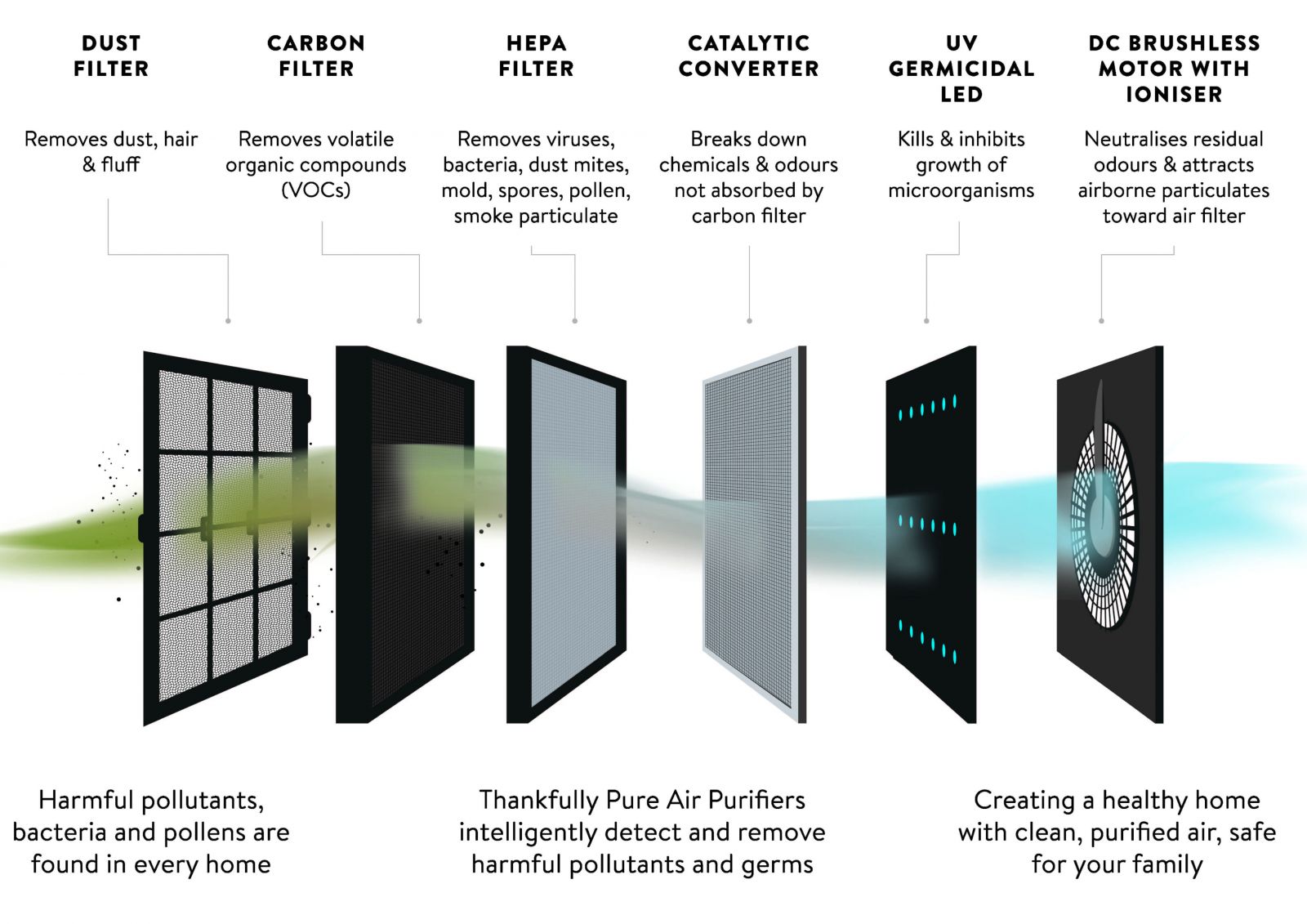 The Thankfully Pure 3900 comes with a 12 month warranty.
1 x Thankfully Pure Air Purifier 3900
1 x Instruction Manual
Dimensions:
Height: 655mm
Width: 365mm
Depth: 210mm
Specifications:
Automatic detection: Detects volatile organic compounds and particulate via mutliple sensors which adjusts the system accordingly
Five speed levels: The 3900 has silent, low, medium, high and turbo levels
Medical-grade HEPA filtration: 99.97% at 0.3 microns
Air Quality Indicator: Blue is good, Purple is slight, Maueve is moderate, Red is severe
​Low power consumption: Peak 65w on start up, typical average 14w
High airflow: Clean Air Delivery Rate (CADR) 4.8 cubic meters per minute (288 cubic meters per hour
Room size: The 3900 is suitable for areas up to 65 square meters ​(8m x 8m room)
UV intensity: 200uw per cm^3 to kill and inhibit growth of microorganisms
Oxygen output: Active Oxygen output is <0.05ppm ​
Weight of unit: 7.3kg
Power usage in the 5 different modes is as follows:
Standby: 0.8W
Silent: 7.8W
Low: 8.5W
Medium: 13.5W High: 27.5W
Turbo: 40.5W
| | |
| --- | --- |
| SKU | TP-AIR-3900 |
| Brand | Thankfully Pure |
What some of our customers have to say